After it's all said and done
When complete, each movement will feature one of the nine PORTRAITS artworks and come to life through music and motion by GMCW and 17th Street Dance, respectively. Each piece will highlight an aspect of the human experience, inspired by the PORTRAITS artwork of the composer's choosing, with lyrics supporting the artist's original intent. The music and artwork will be combined with a choreographer to create the final piece. Nine artists. Nine composers. Nine choreographers. One GMCW.
Premiere performance
June 16, 2024 at the Kennedy Center
Tickets on sale soon – for more information on the performance click HERE. Scroll down to learn more about the art, music, and dance.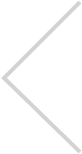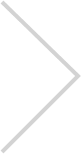 VIRGINIA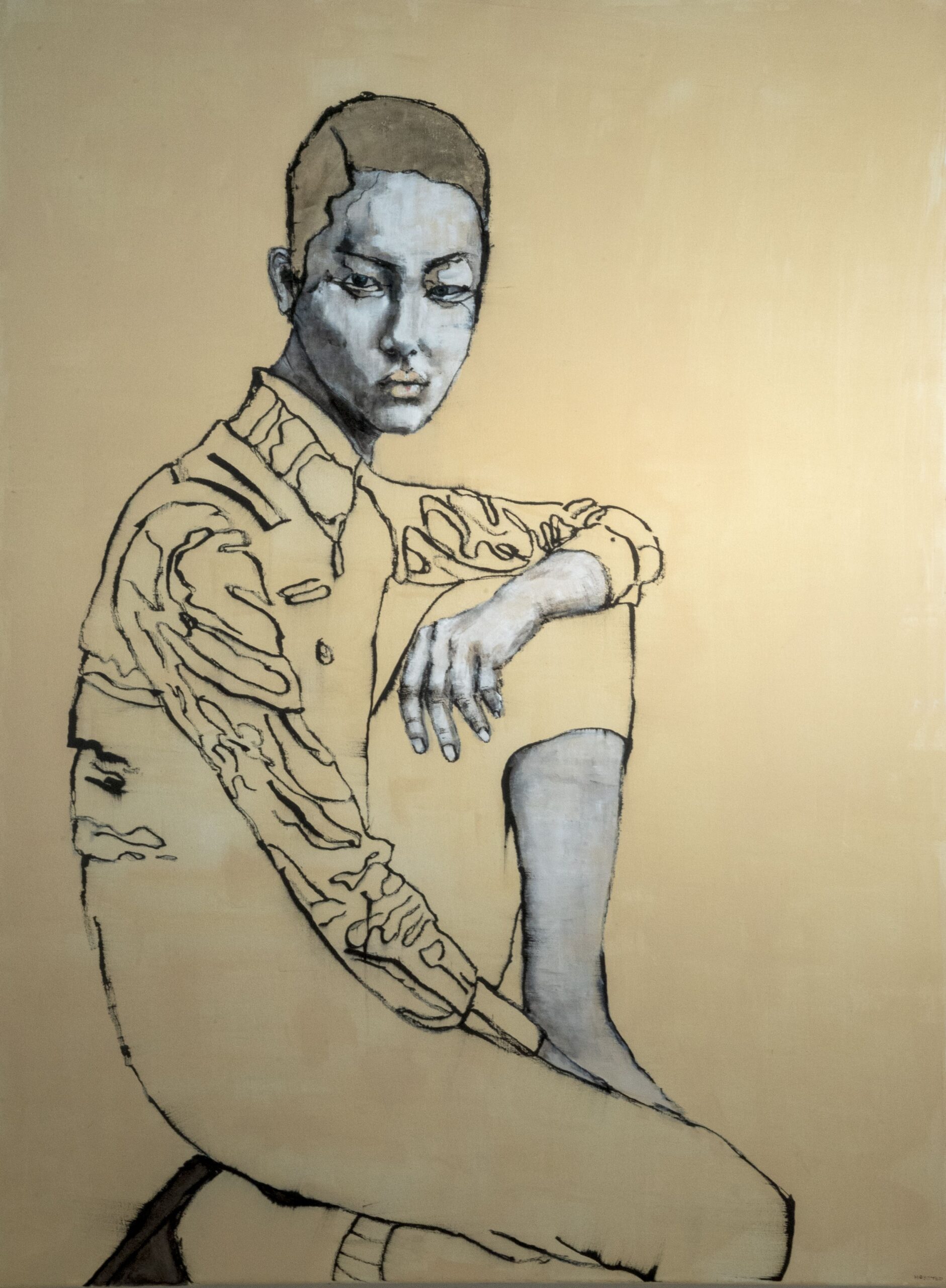 JACQUELINE HOYSTED
SHARD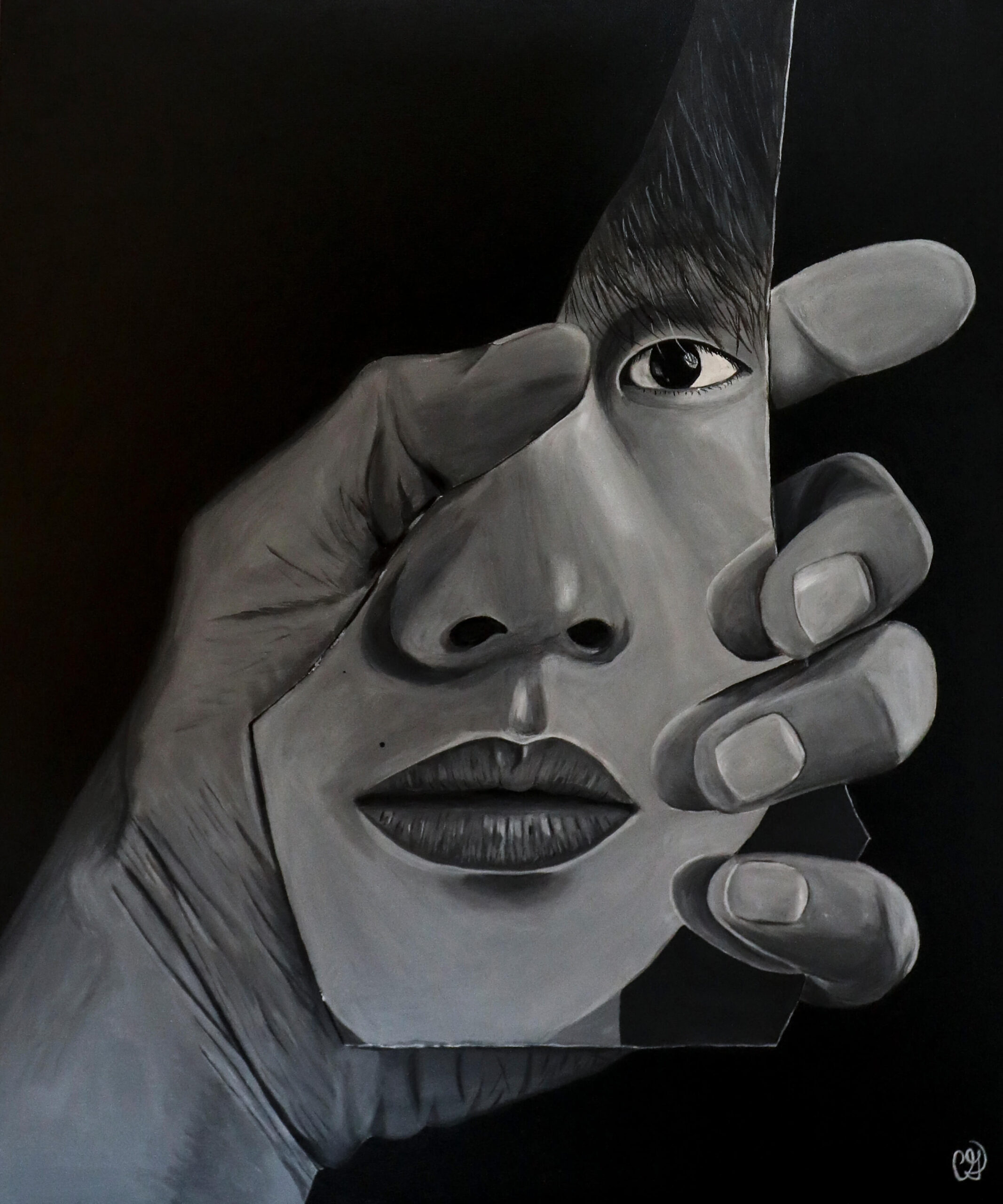 CÉLINE GAUCHEY
KEEP YOUR EYE ON THE PRIZE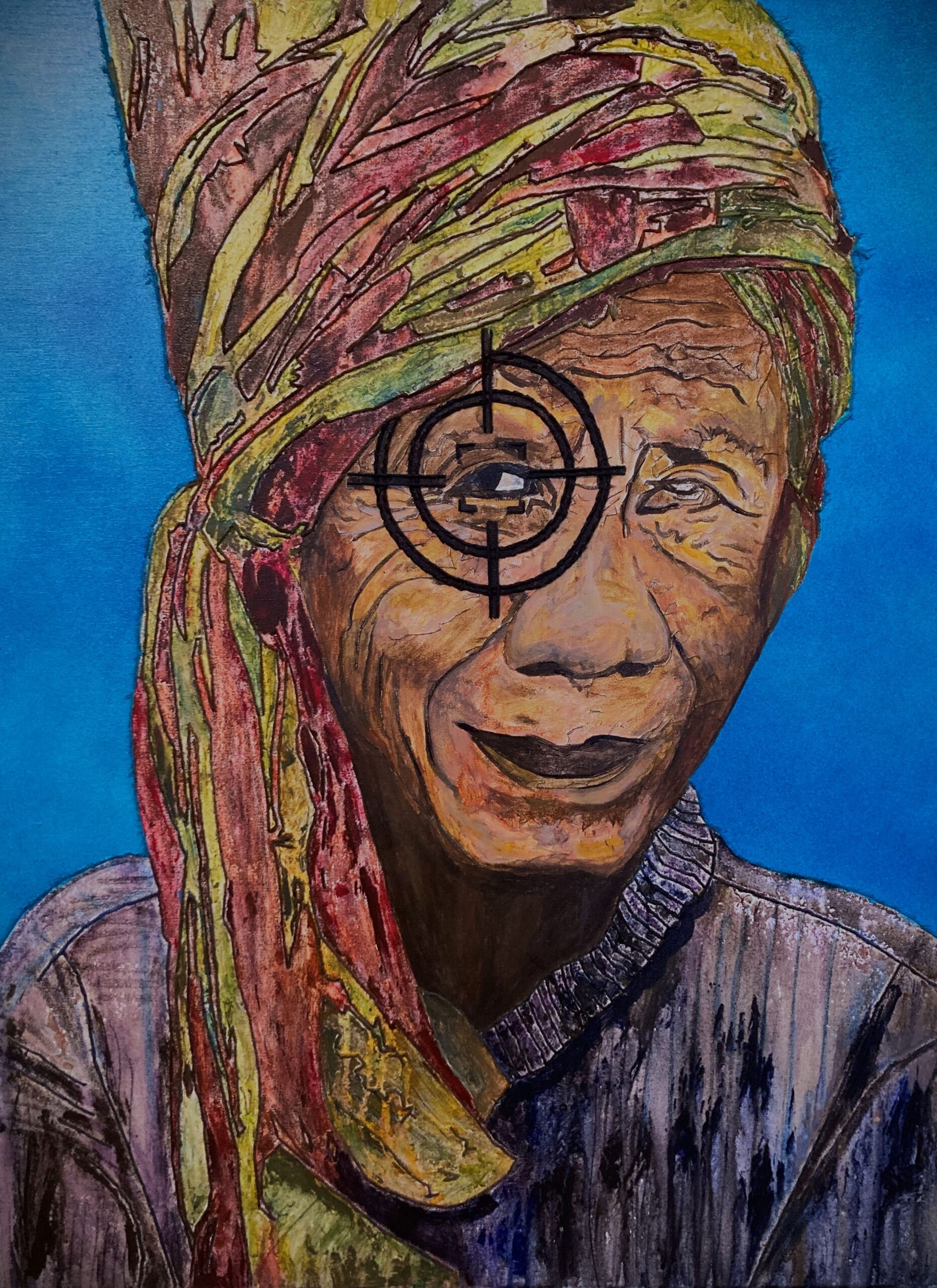 GREGORY WILKINS
MAN WITH TATTOO, HAVANA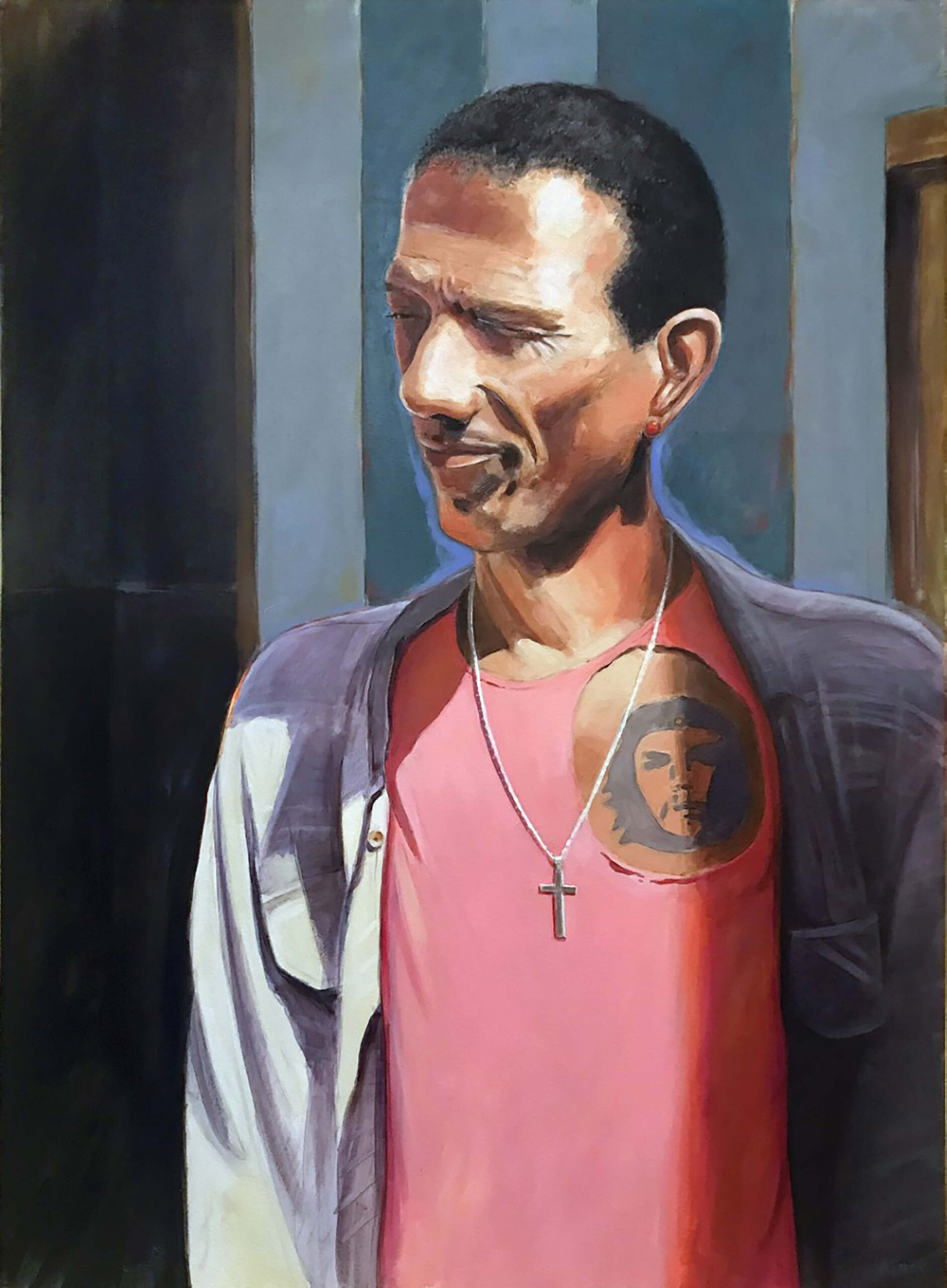 JAMES KIMAK
NIGHT HUNGER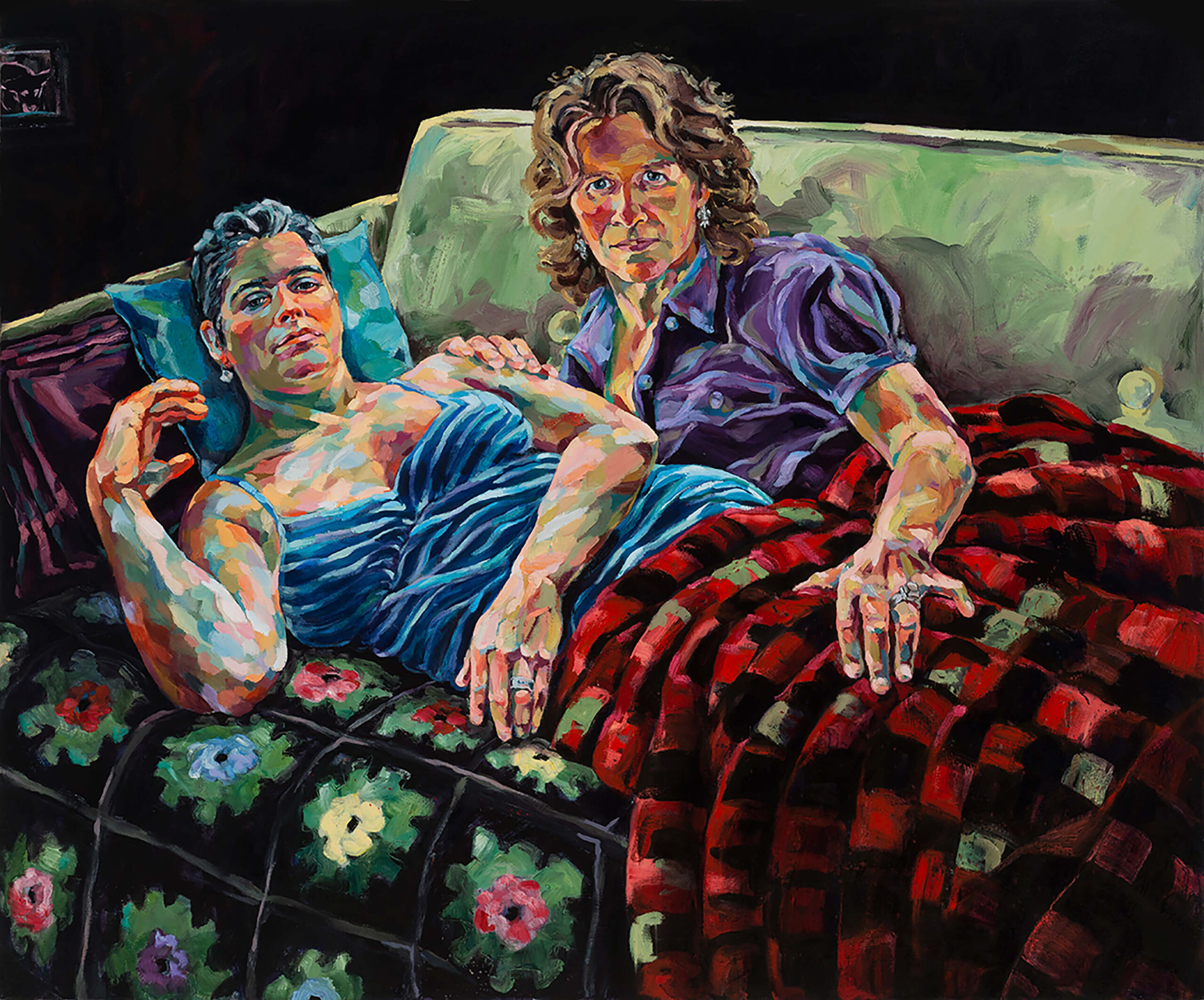 JOAN COX
STEELED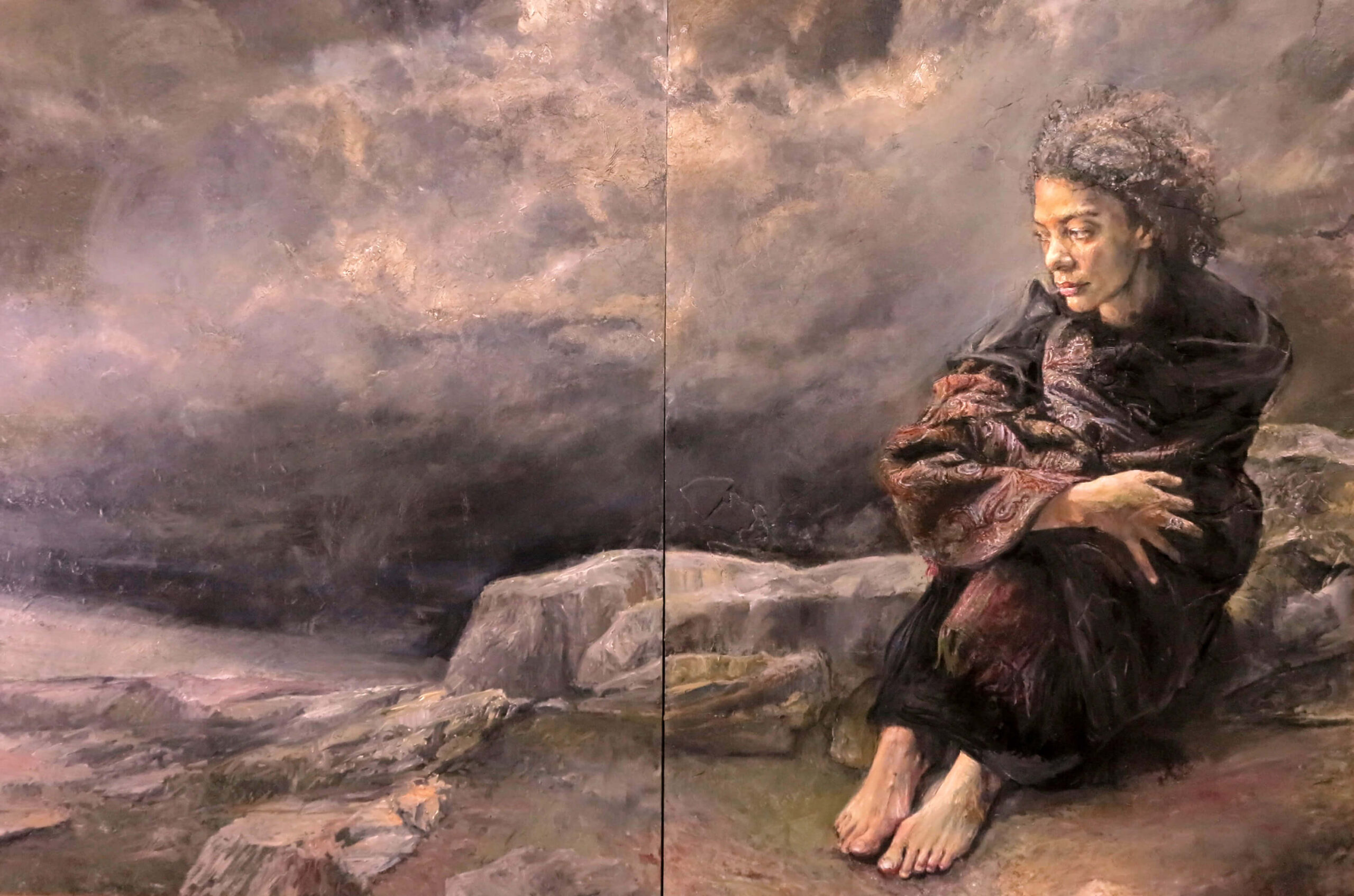 JUDITH PECK
SEE ME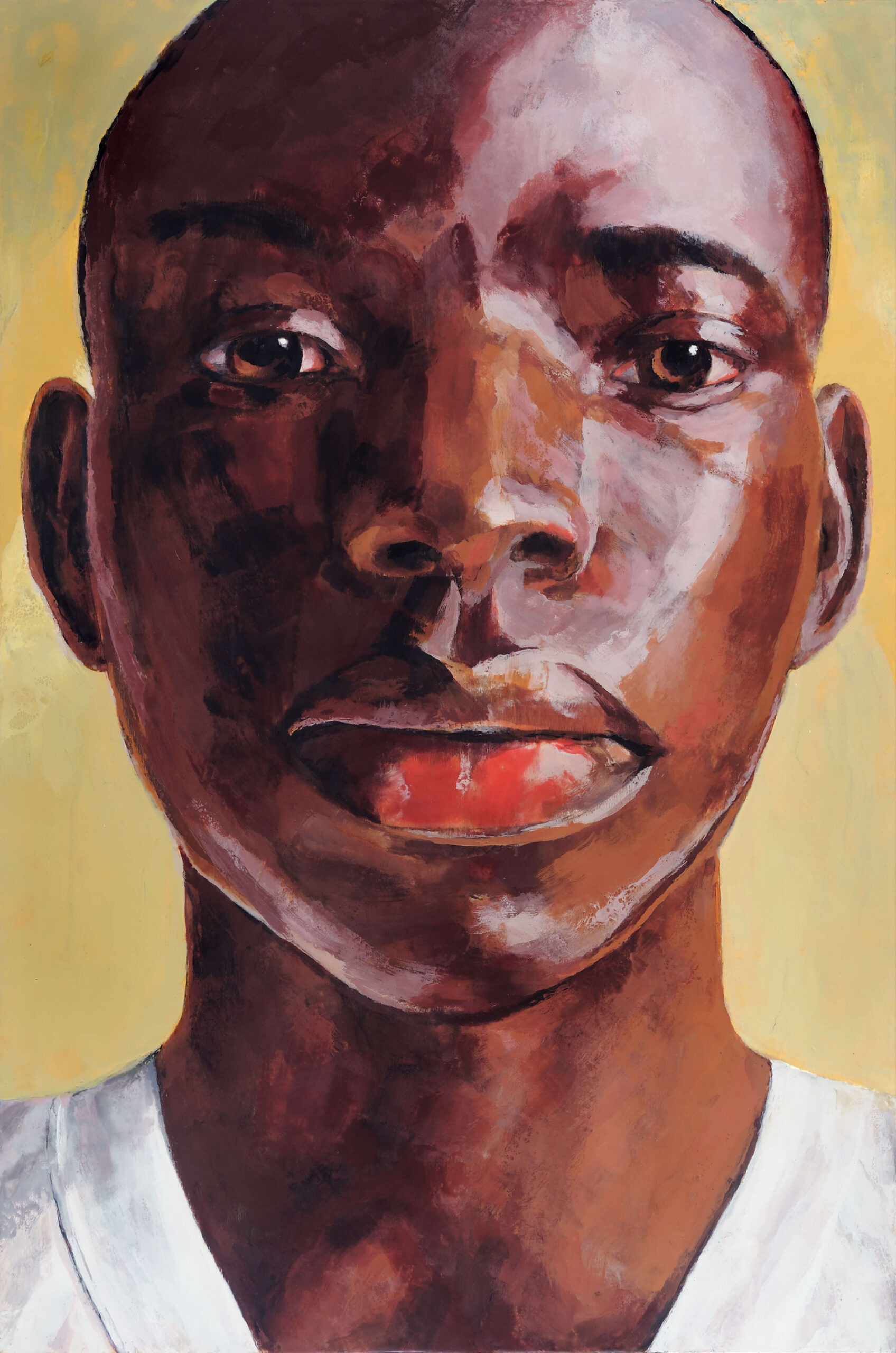 LINDA LOWERY
SLEEP WITH ONE EYE OPEN AND DO NOT SPEAK OF IT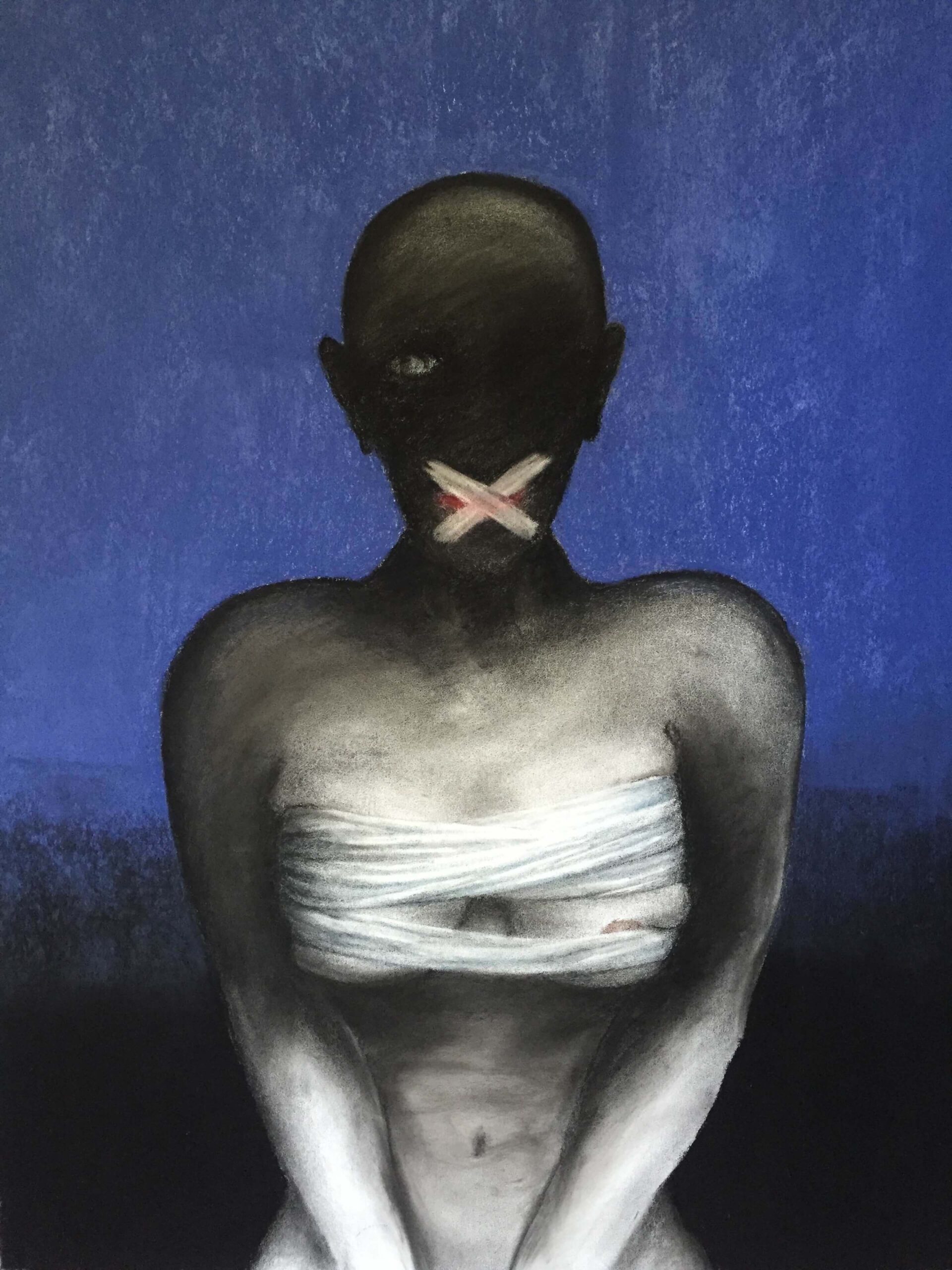 TERRANCE GREGORASCHUK
STRANGE FRUIT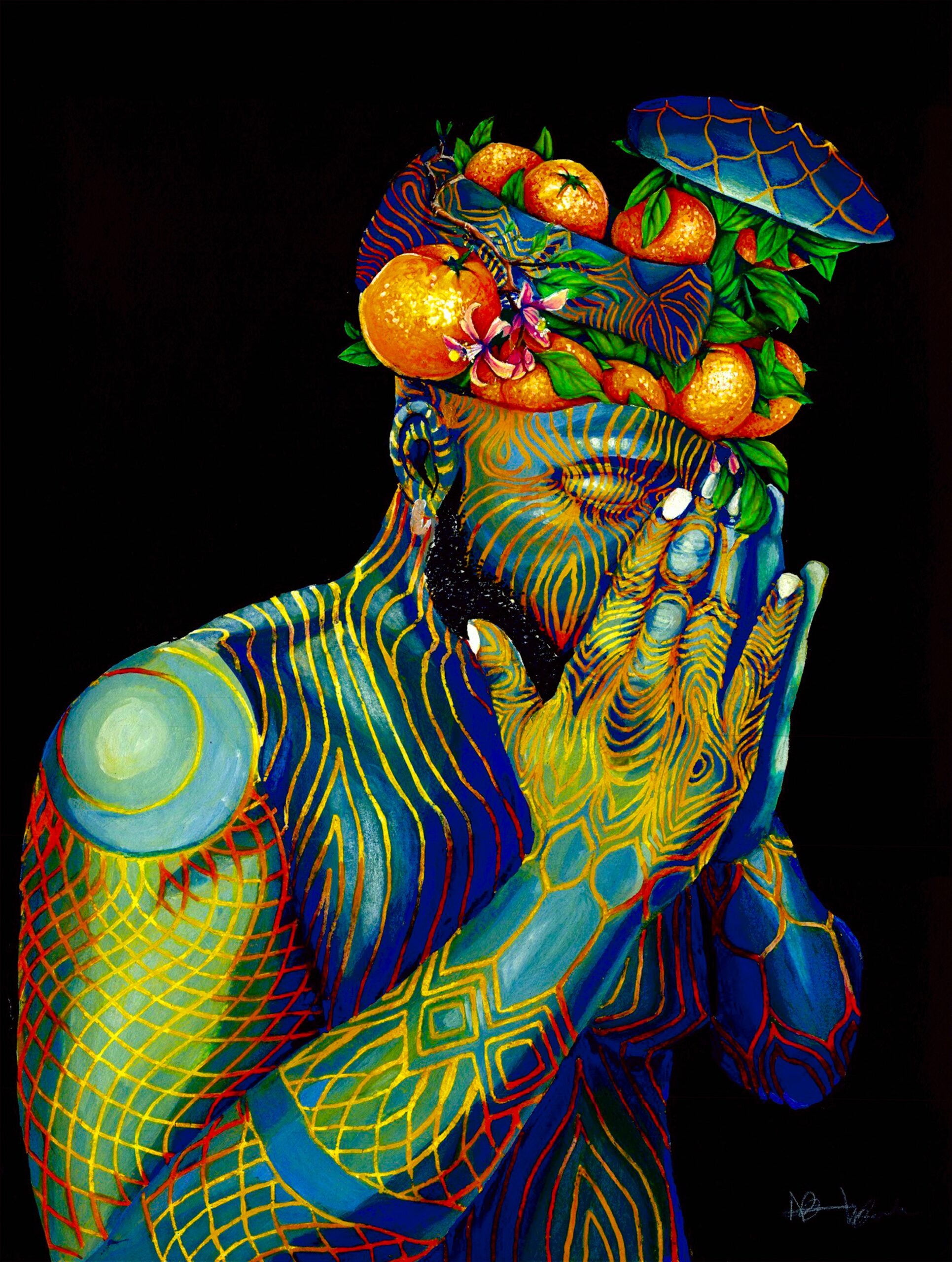 NICOLE WANDERA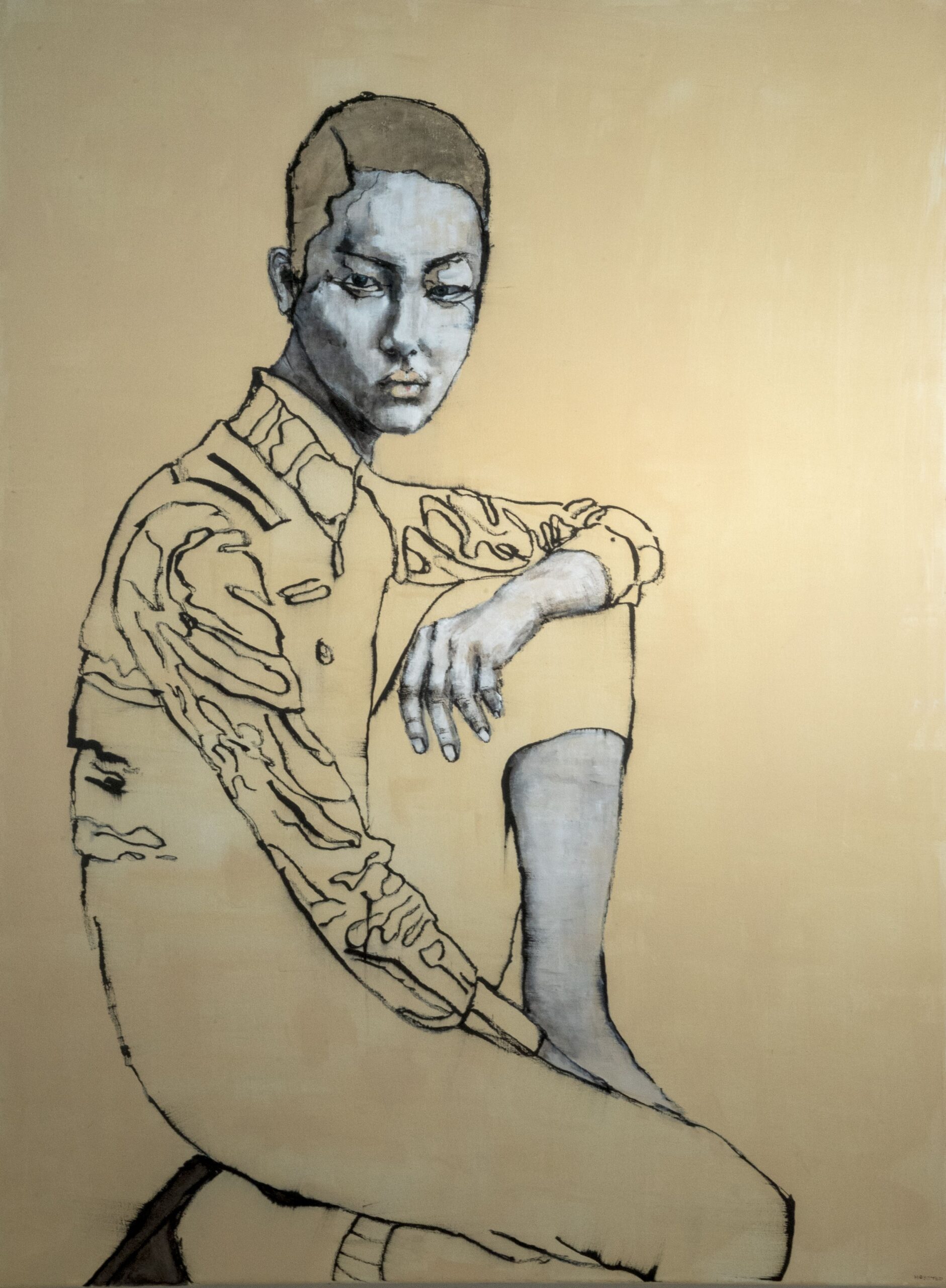 J
ASHE/HER
C
Q
U
E
L
I
N
E
H
O
Y
S
T
E
D
SHE/HER
VIRGINIA
"This portrait relates to how segments of the population are marginalized and mistreated. It is created with the idea of taking back the 'gaze.' The subject in the portraits looks out defiantly and challenges the viewer."
Jacqueline Hoysted is an award-winning interdisciplinary artist, curator, and activist based in Montgomery County, Maryland. Her work has been displayed in exhibitions across the US and featured in the Washington Post, Washington City Paper, HuffPost, Pittsburgh Tribune-Review, and Reno Gazette-Journal.
Jacqueline is the recipient of grants from the DC Commission on the Arts and Humanities, Maryland State Arts Council, and the Arts and Humanities Council of Montgomery County. She is also a co-founder of ArtWatch, a DC artist collective focused on positive political activism that realized the One House project (2017 & 2018), a collaboration of 300 DMV artists standing up for equality and inclusion.
Website

Interview

LISTEN TO A SAMPLE OF THE COMPOSITION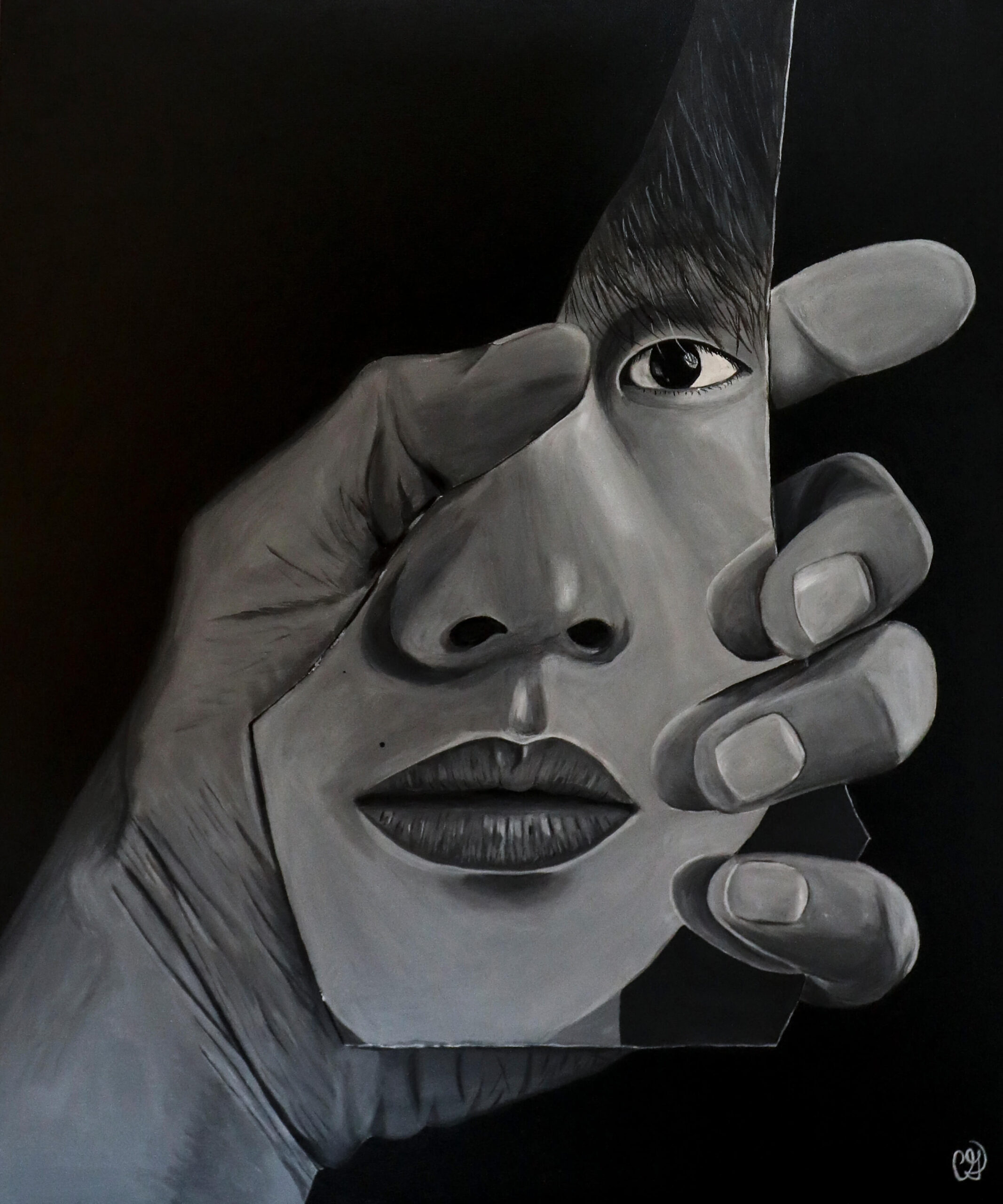 C
É
LSHE/HER
I
N
E
G
A
U
C
H
E
Y
SHE/HER
SHARD
"The subject of the piece is a reflection of a fragment of myself – the piece of the puzzle that does not always fit, but surely belongs. As a biracial first generation American, I often question my own cultural identity, contemplating the inconsistency between how I see myself versus the reality of how I am seen. 'Shard' represents a fraction of who I am within the vast continuum of what it means to be American."
Céline Chu Gauchey is a French-Chinese artist specializing in acrylic portraits. As a biracial first generation American, her portraits capture the intricate duality of a human's sense of self. Each piece represents the dichotomous relationship every person has between what they want to be and who they really are.
Céline is originally from the San Francisco Bay Area, and based in New York City. Céline is also a photographer, with a primary focus on landscapes. She graduated from Barnard College of Columbia University with degrees in Economics and Psychology, and currently works as a software engineer.
Website

Interview

LISTEN TO A SAMPLE OF THE COMPOSITION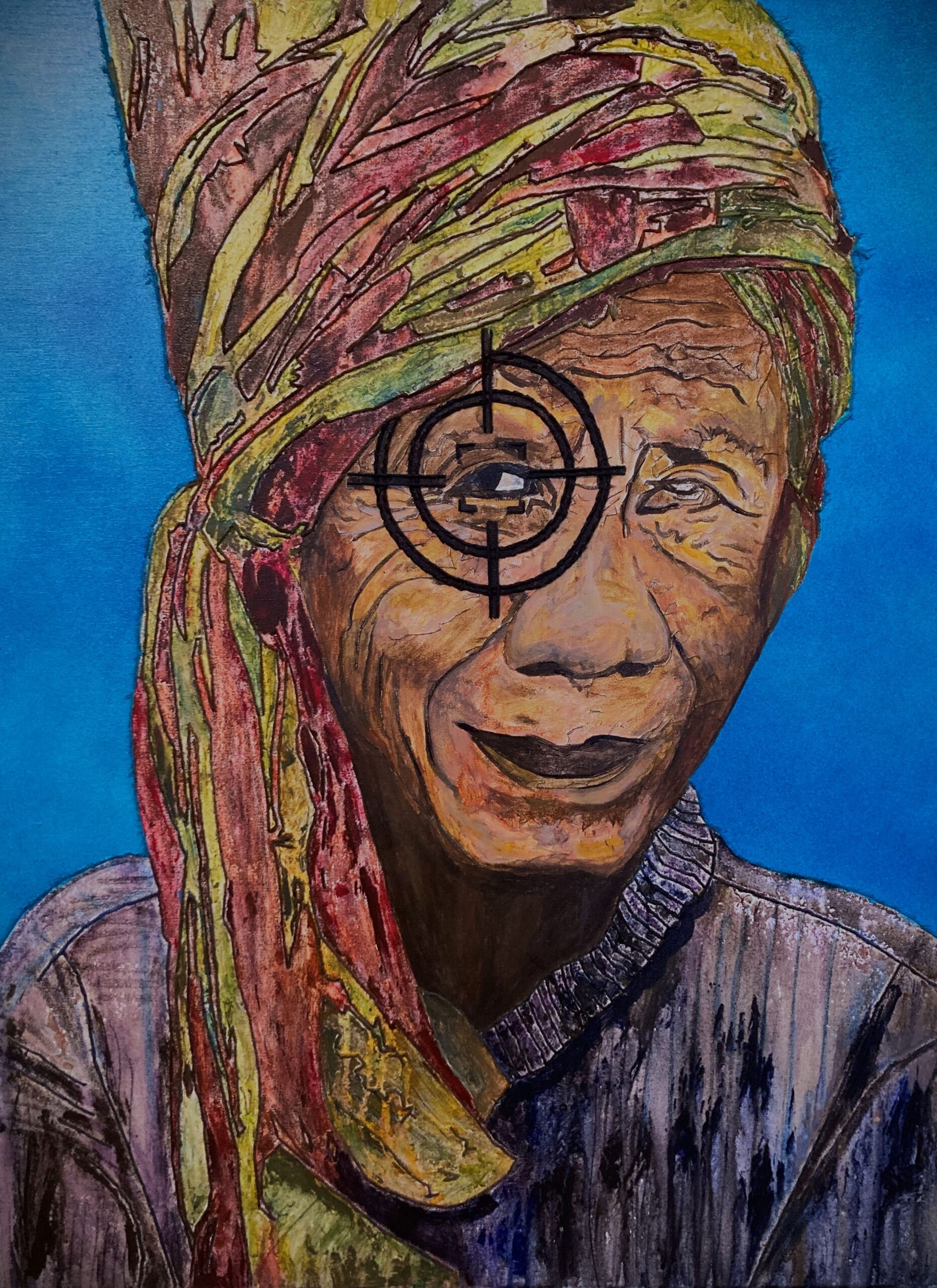 G
R
E
G
O
R
Y
W
I
LHE/HIM
K
I
N
S
HE/HIM
KEEP YOUR EYE ON THE PRIZE
"As the United States continues to struggle where underrepresented communities fit within a queerphobic and a racist country, we must never forget our history as we continue to push forward. Collectively, our struggles empower us to create a better tomorrow that is filled with equality, equity, and inclusion. These images are a testament to the past and present as we find voice and bring sweeping systemic changes to an ever-changing world."
As a gay artist and educator whose mixed media and fiber pieces integrate hand- and machine-constructed processes, Gregory encourages viewers to reflect on social justice and think about their own privilege and how they might affect change.
Raised in a multi-ethnic, multinational family, Gregory faced adversity throughout his life that shaped his development, social activism, and education. While working at the Smithsonian Institution's Museum of American Art, he was empowered to use his artistic voice to create opportunities for dialogue and to address modern day concerns.
Website

Interview

LISTEN TO A SAMPLE OF THE COMPOSITION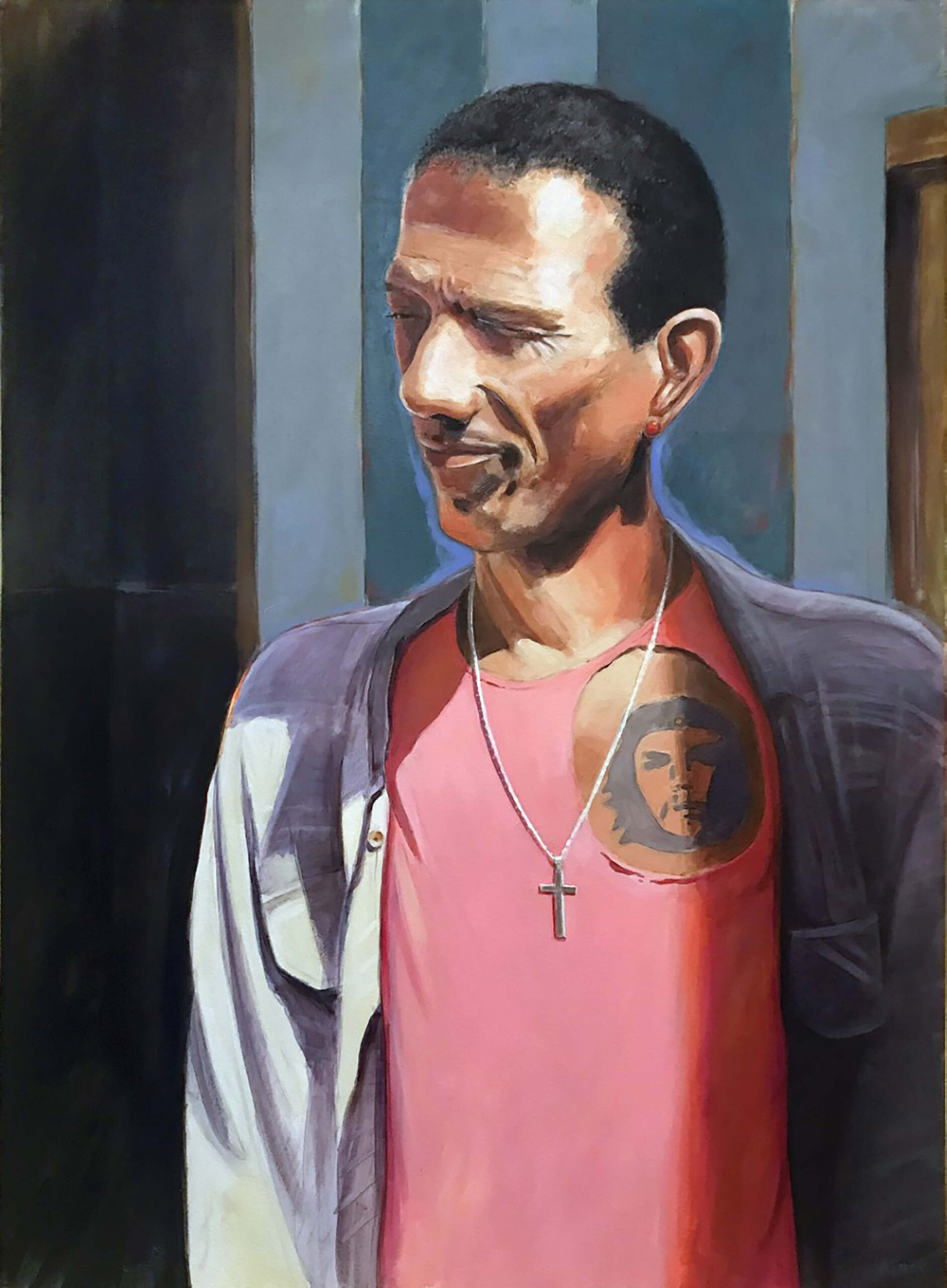 J
AHE/HIM
M
E
S
K
I
M
A
K
HE/HIM
MAN WITH TATTOO, HAVANA
"This is a cultural study of a strongly sunlit man displaying both his religious and political faiths, in some ways at odds with each other, based on a photo I took on a street in Havana, Cuba."
As a fine artist, photographer and graphic designer for more than 40 years, James has honed his creative skills within a wide variety of fine and digital art disciplines. After a successful career as a designer, illustrator, and art director for such firms as NBC and CNBC, he created large mural installations for hospitals and universities including NY Presbyterian Hospital, Columbia University, and the UPMC Children's Hospital of Pittsburgh.
His works in acrylic on canvas focus on contemporary realism in a wide variety of subject matter, with the emotive powers of light and form being his principle concern.
Website

Interview

LISTEN TO A SAMPLE OF THE COMPOSITION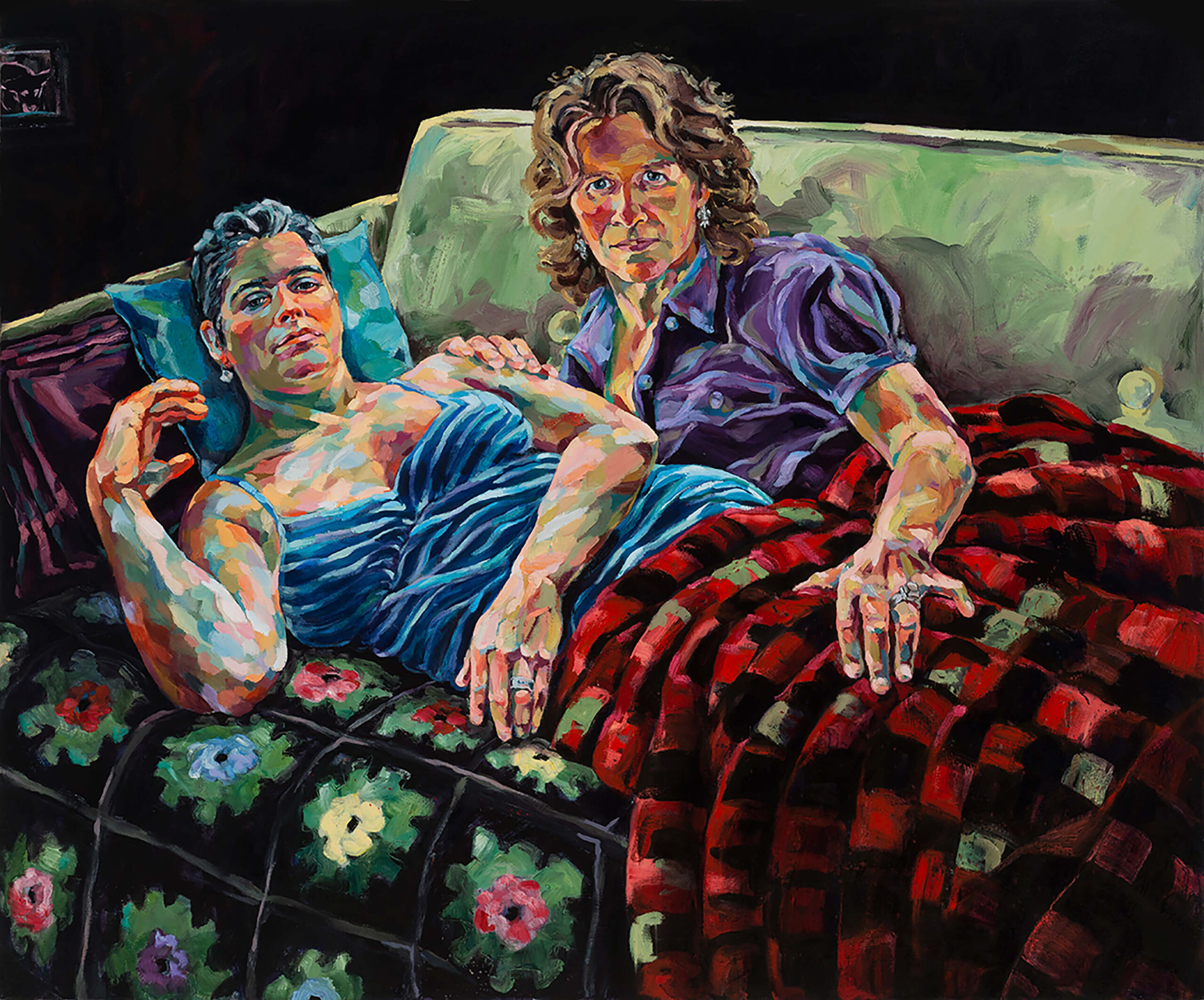 J
O
ASHE/HER
N
C
O
X
SHE/HER
NIGHT HUNGER
"This is a self-portrait of me and my wife in our home in an intimate moment. This painting shows the love and intensity of a lesbian relationship. We are not two women to be gazed at by male viewers, but rather to be identified with by LGBTQ viewers."
Joan Cox is a figurative painter. Her work focuses on painting intimate relationships between women. She seeks to portray dynamic, complex, sensual, sexual, and loving relationships between women—normalizing them. Joan's socially relevant paintings open up dialogue through a complex investigation of cultural norms, sexual identity, and body politics.
Based in Baltimore, Maryland, Joan is a painter and photographer, as well as a graphic designer and writer. She earned a BFA from Towson University and an MFA from Massachusetts College of Art at the Fine Arts Work Center in Provincetown. Her work has been shown nationally and can be found in a host of private collections.
Website

Interview

LISTEN TO A SAMPLE OF THE COMPOSITION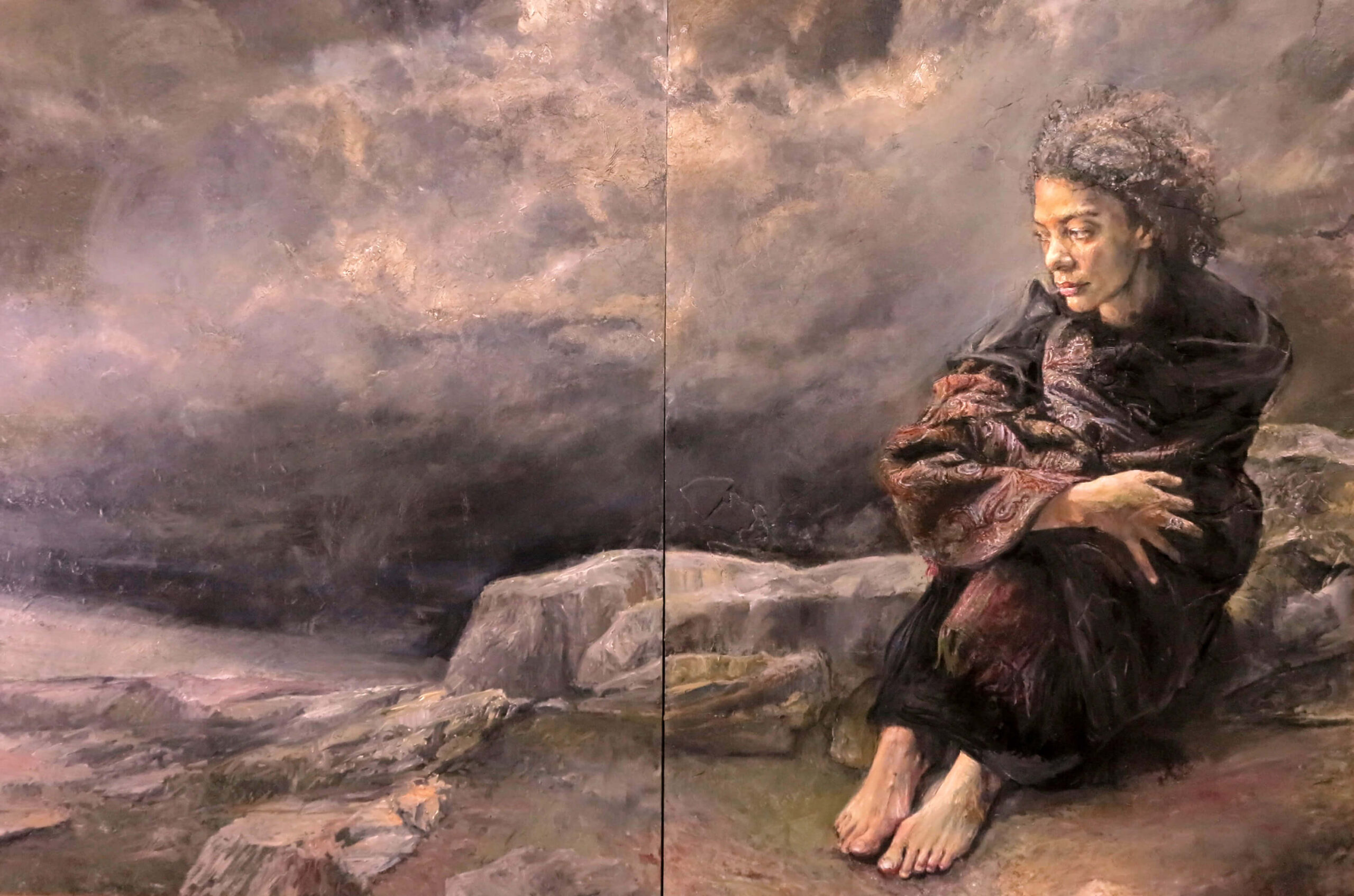 J
U
D
I
T
HSHE/HER
P
E
C
K
SHE/HER
STEELED
"My painting 'Steeled' is about the isolation you feel while being cast as the other. My model and I had a conversation about some specific incidents in our lives that made us feel that when it happened again, next time we would be more prepared, steel ourselves to the situation. The overall grayness of the palette, the turbulent sky, the jagged rock outcropping as well as the cocoon-like pose wrapped up in a shawl are intended to contribute to this feeling."
Judith Peck is a Washington, DC-area allegorical figurative artist who has made it her life's work to paint about current issues and healing, using a variety of methods and experimental techniques to achieve a diverse range of visual and tactile results that validate a strong narrative.
Judith's paintings have been featured in magazines like American Art Collector, Poets /Artists, The Artist's Magazine, iARTisas, Combustus, and the books Tradition and Transformation and The Ashen Rainbow by Ori Z. Soltes, as well as The Kress Project published by the Georgia Museum of Art.
Website

Interview

LISTEN TO A SAMPLE OF THE COMPOSITION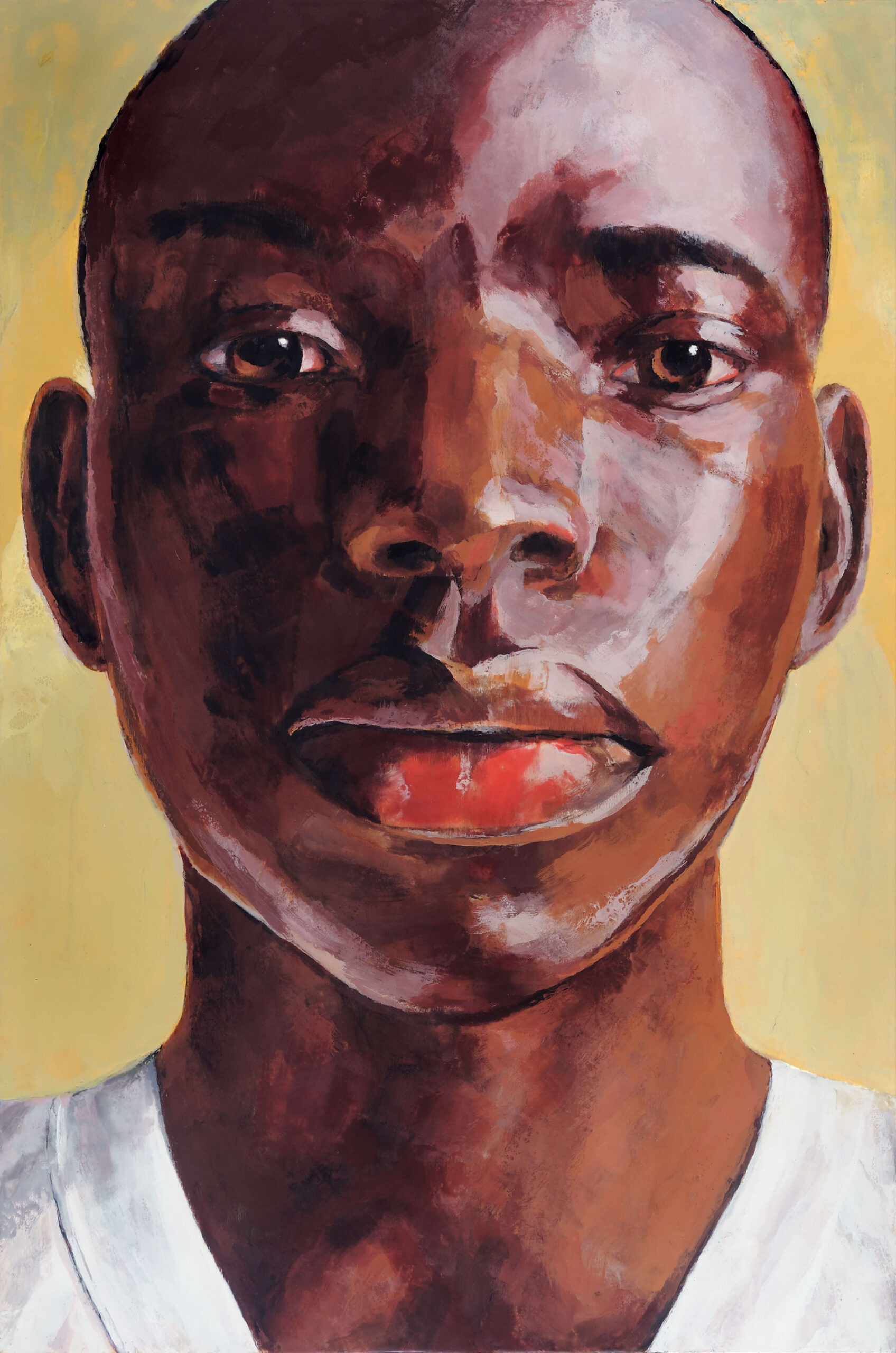 LSHE/HER
I
N
D
A
L
O
W
E
R
Y
SHE/HER
SEE ME
"I think this piece is a strong example of my portrait painting. The young man looks strong, physically present, yet vulnerable. He is not afraid to show us his strengths and weaknesses. He is fully human. Just like me. Just like you."
Linda is a full-time artist, painting both en plein air and in her studio in Alexandria, Virginia. Although her primary medium is oil, she explores other painting media including watercolor and encaustics, or hot wax painting. She shows extensively in the Washington, DC metropolitan area and is represented in many private collections, as well as in the permanent collection of the Museum of Encaustic Art in Santa Fe.
Linda earned a BFA from Ohio Wesleyan University and an MFA from George Washington University. She also studied at the University of Vienna in Austria.
Website

Interview

LISTEN TO A SAMPLE OF THE COMPOSITION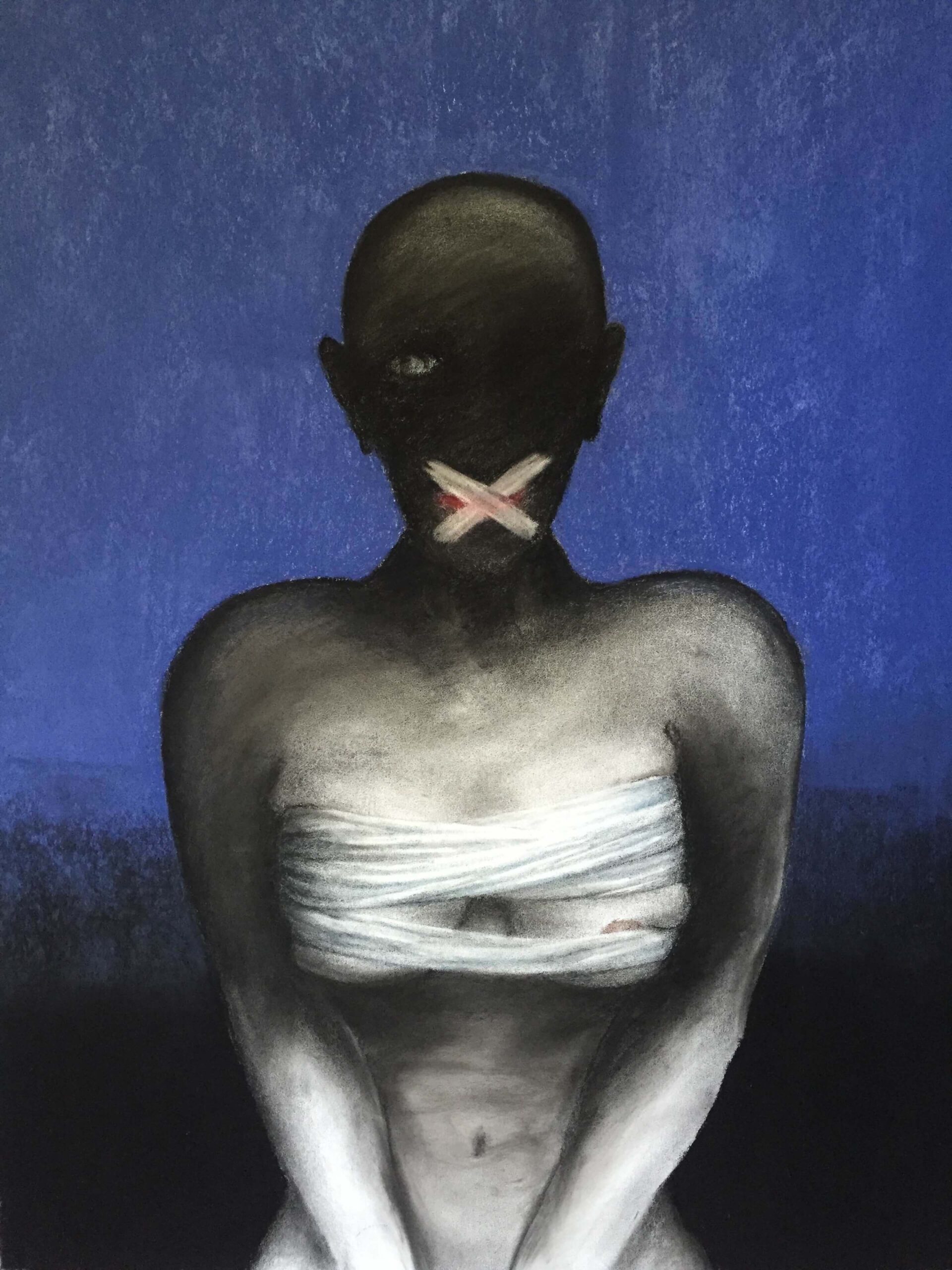 T
E
R
R
AHE/HIM
N
C
E
G
R
E
G
O
R
A
S
C
H
U
K
HE/HIM
SLEEP WITH ONE EYE OPEN AND DO NOT SPEAK OF IT
"I am a male born into a female body. I wrap my breasts to hide my female form. I live in a hostile environment where nobody understands and I fear for my life."
After attending The Alberta College of Art and Design from 1977 to 1980, Terry pursued a career in the commercial art industry, as an illuminated sign designer and magazine art director. As Terry's reputation and client list grew with his fine arts paintings, he decided to leave the advertising world to devote himself to fine art painting full time and hasn't looked back since.
His latest series is "Trans4mations", which was inspired by a family member's announcement as being transgender. These paintings are a testimony to Terry's passion for creativity as he explores and processes the trials, tribulations, and joys of gender identity and diversity through the lens of a cisgender heterosexual man.
Website

Interview

LISTEN TO A SAMPLE OF THE COMPOSITION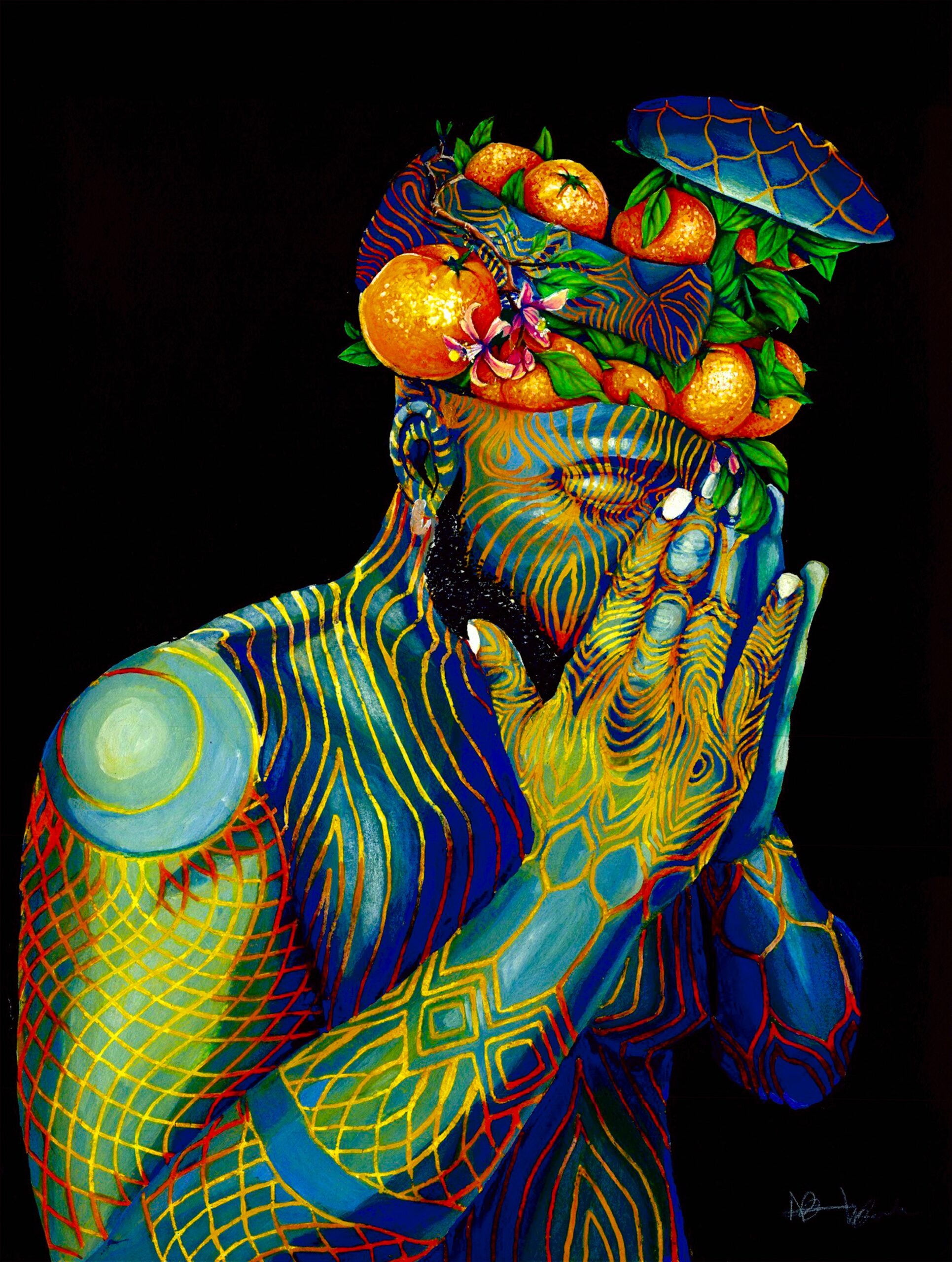 N
I
C
O
LSHE/HER
E
W
A
N
D
E
R
A
SHE/HER
STRANGE FRUIT
"This piece is inspired by mental health in the black community, and how black men rarely have a safe space to be vulnerable and express themselves. The name of the piece is inspired by Nina Simone's version of 'Strange Fruit.'"
Nicole is an artist from Nairobi, Kenya, and currently based in Northern Virginia. She studied at Virginia Commonwealth University, where she earned a BFA in communication arts. Her work is primarily in digital and acrylic painting, though she explores other mediums when necessary to tell her story.
Nicole's African heritage is a vital source of inspiration for her work. The richness of her culture is prevalent through the color, texture, and themes of her pieces. Her art is also a way for her to be politically active and raise consciousness through creative expression.
Website

Interview

LISTEN TO A SAMPLE OF THE COMPOSITION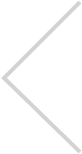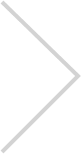 WHEN I RISE UP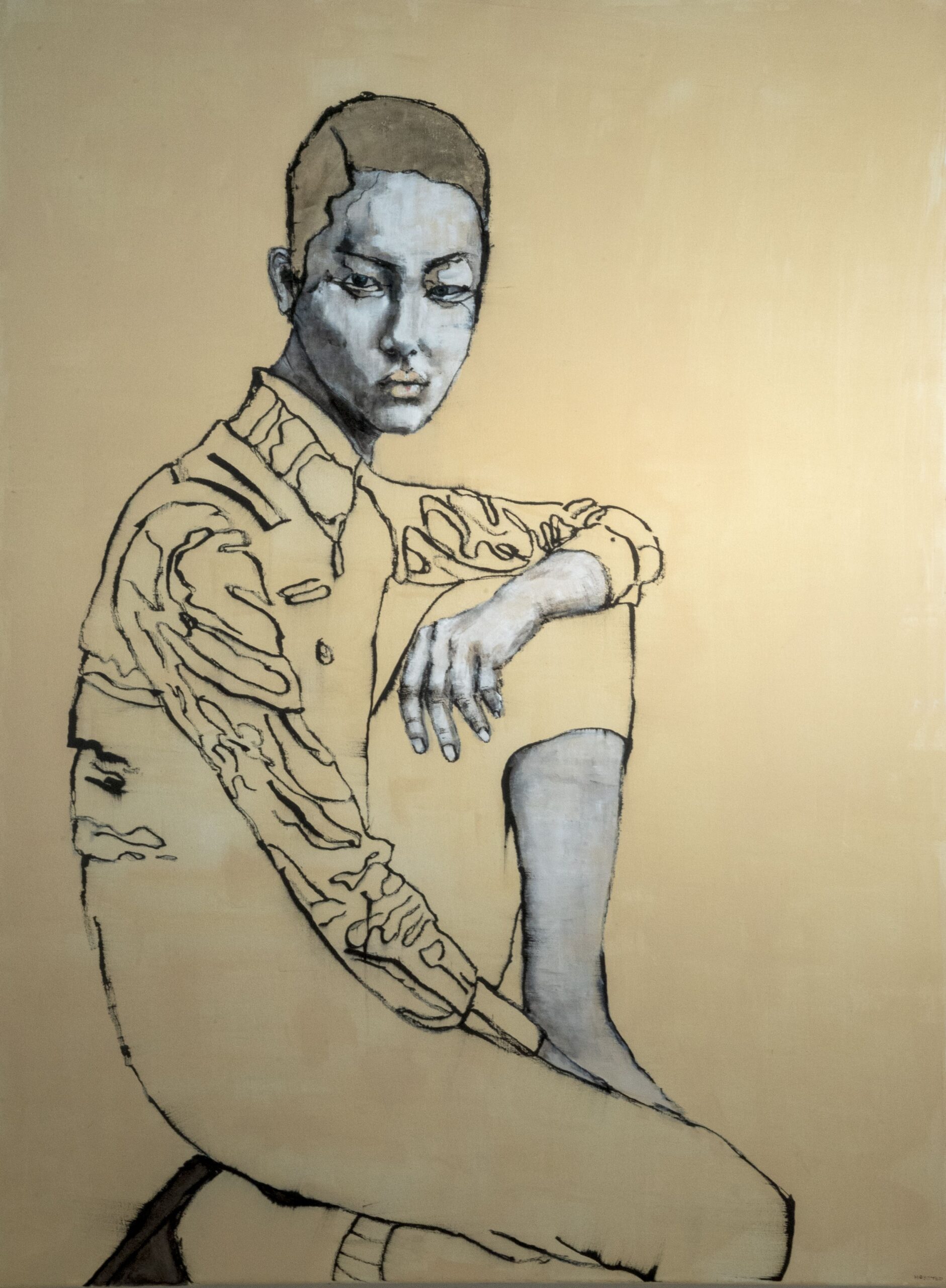 ETHAN SOLEDAD
I AM (ONLY MINE)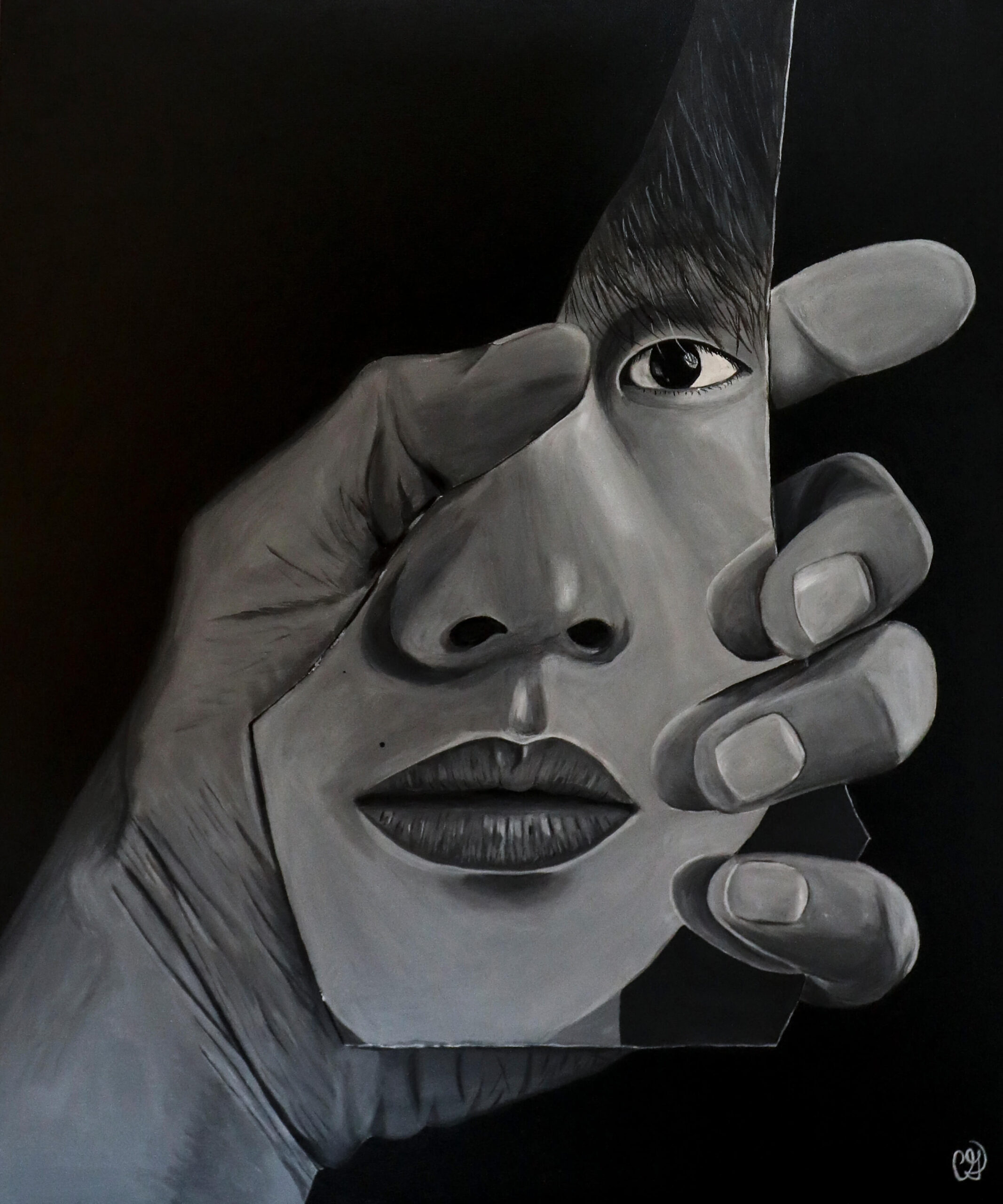 COLE REYES
IT WAS NOT FATE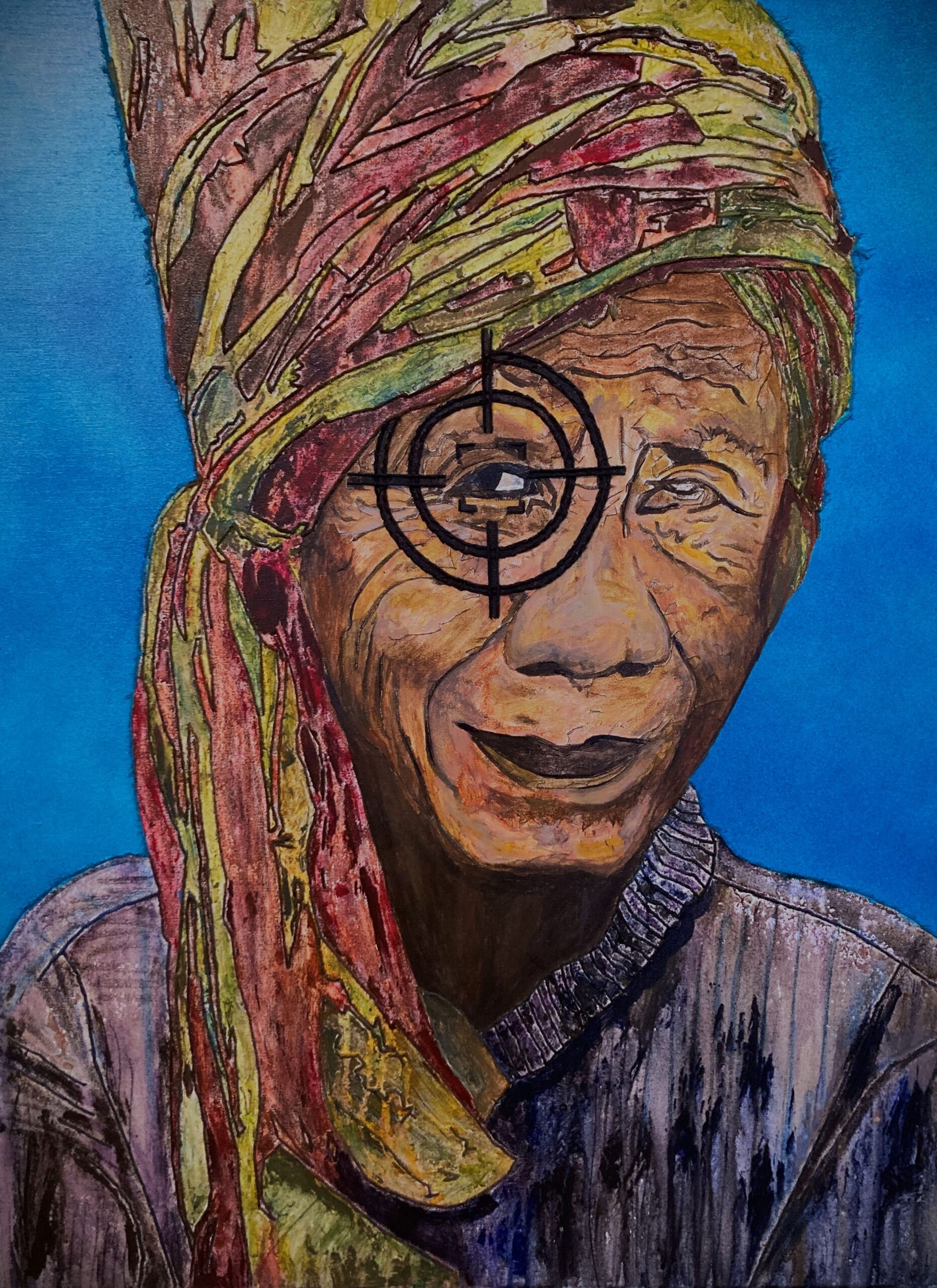 JOSHUA FISHBEIN
Paz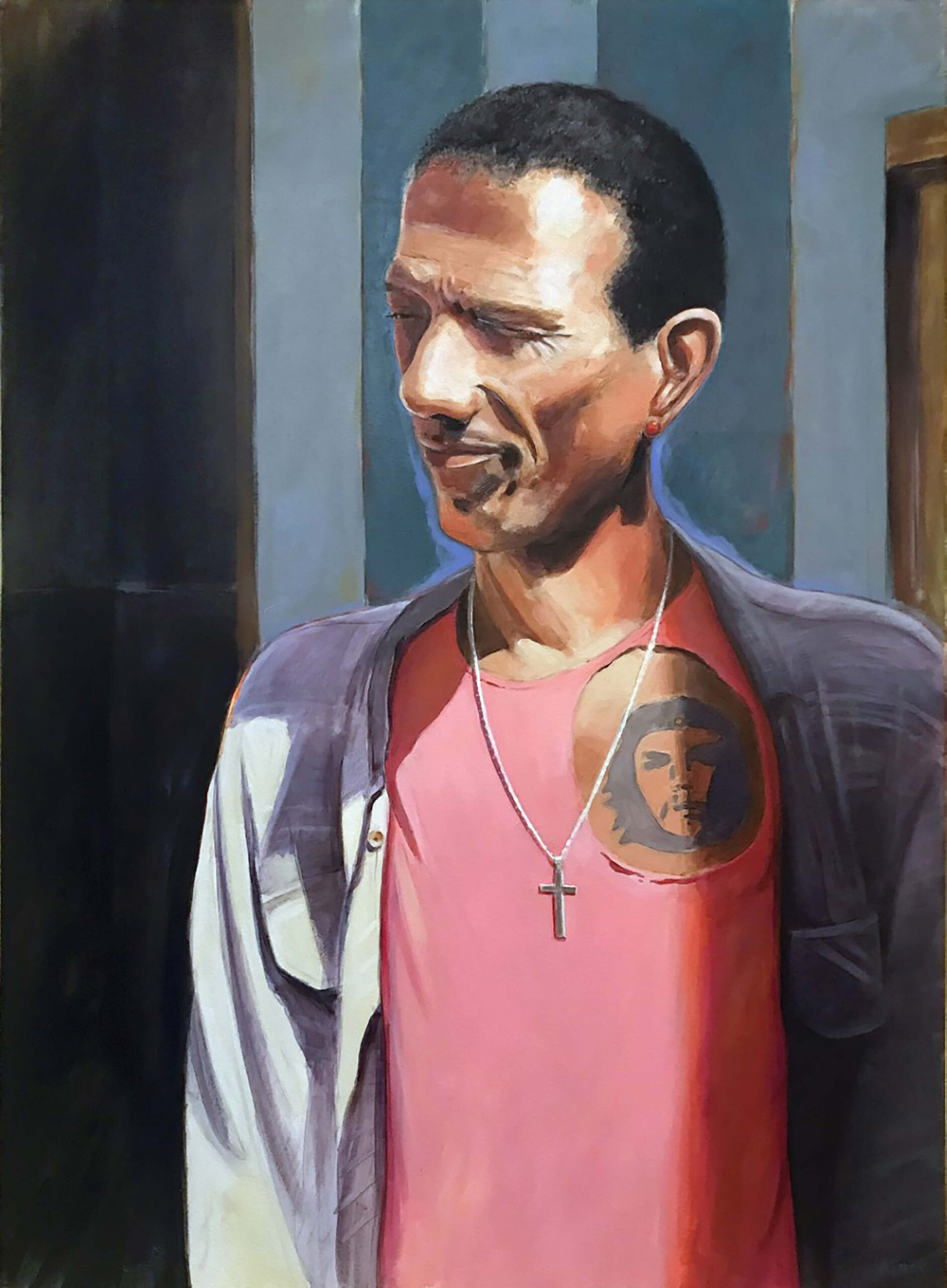 ISMAEL HUERTA
For Us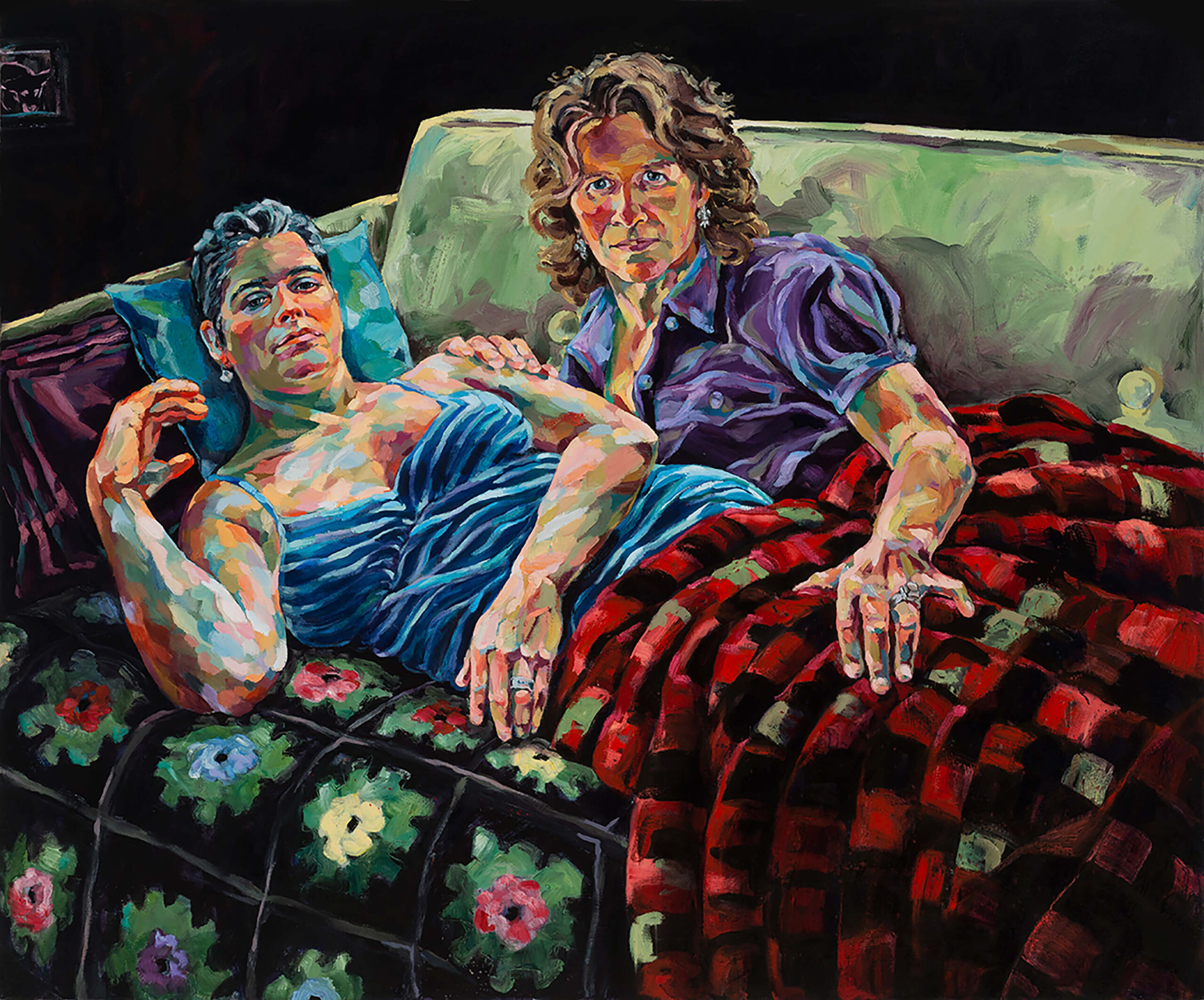 RICHARD CLAWSON
STEELED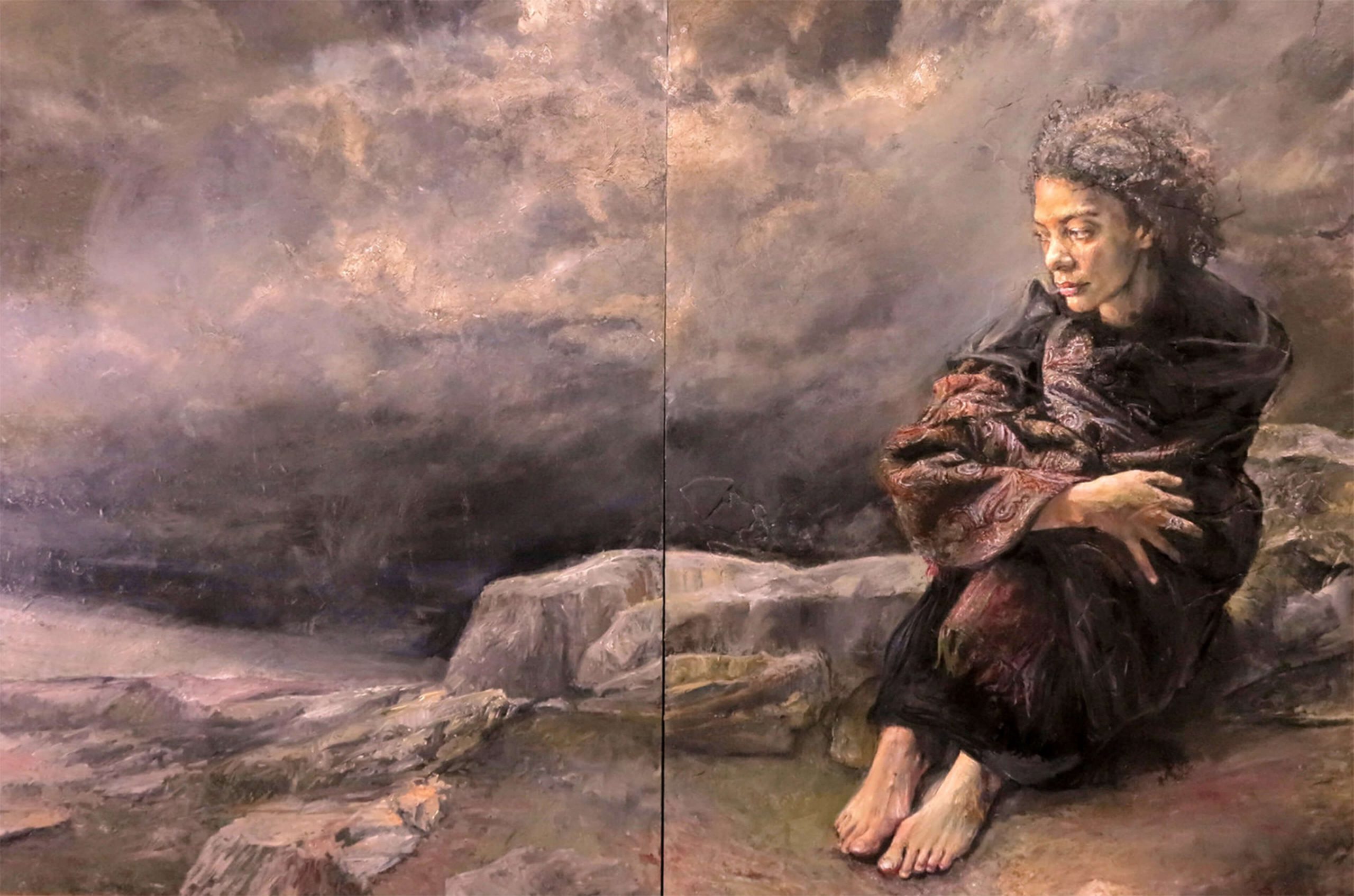 MATTHEW FELBEIN
DO YOU SEE ME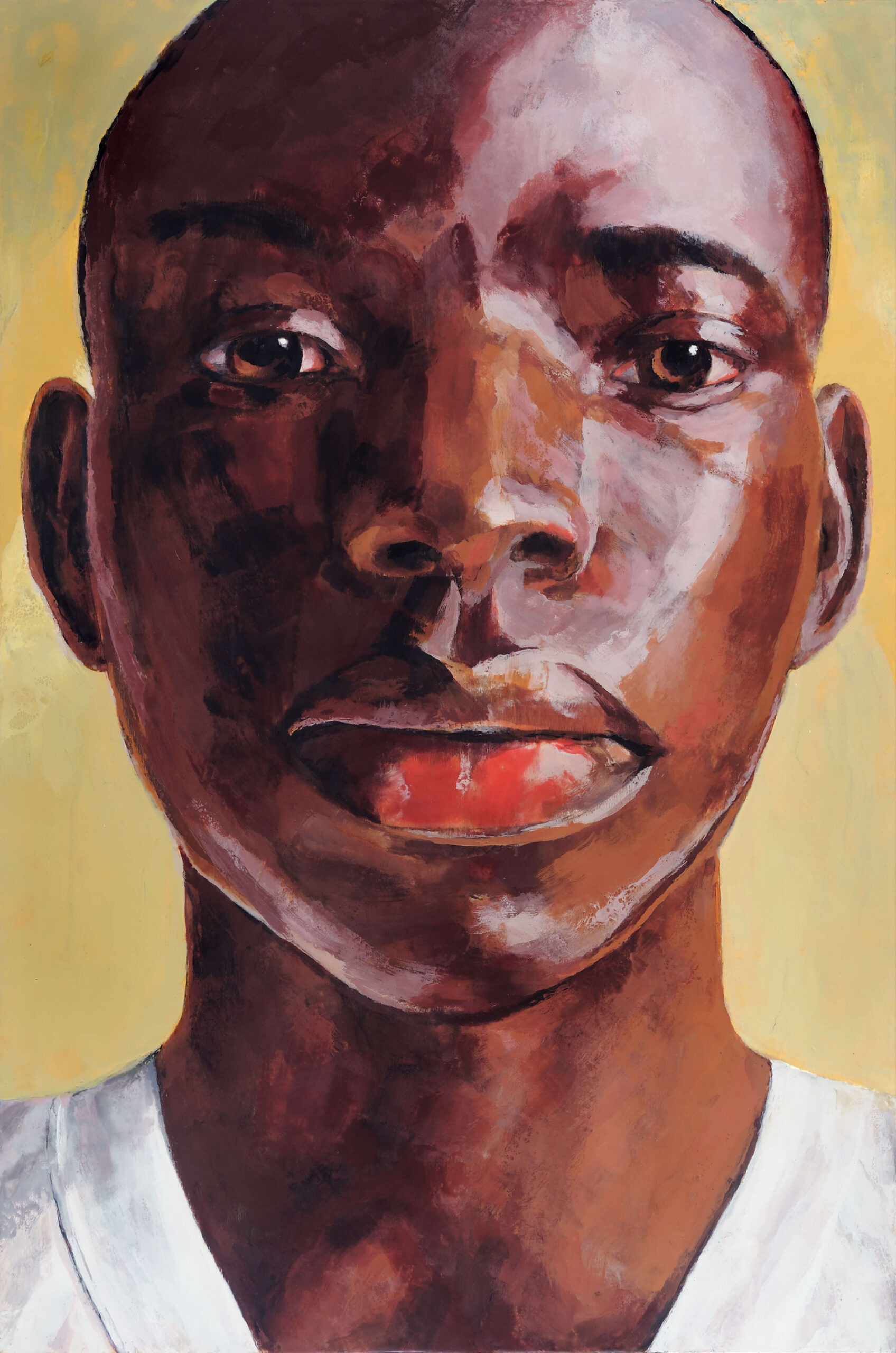 ROYDEN TSE
SLEEP WITH ONE EYE OPEN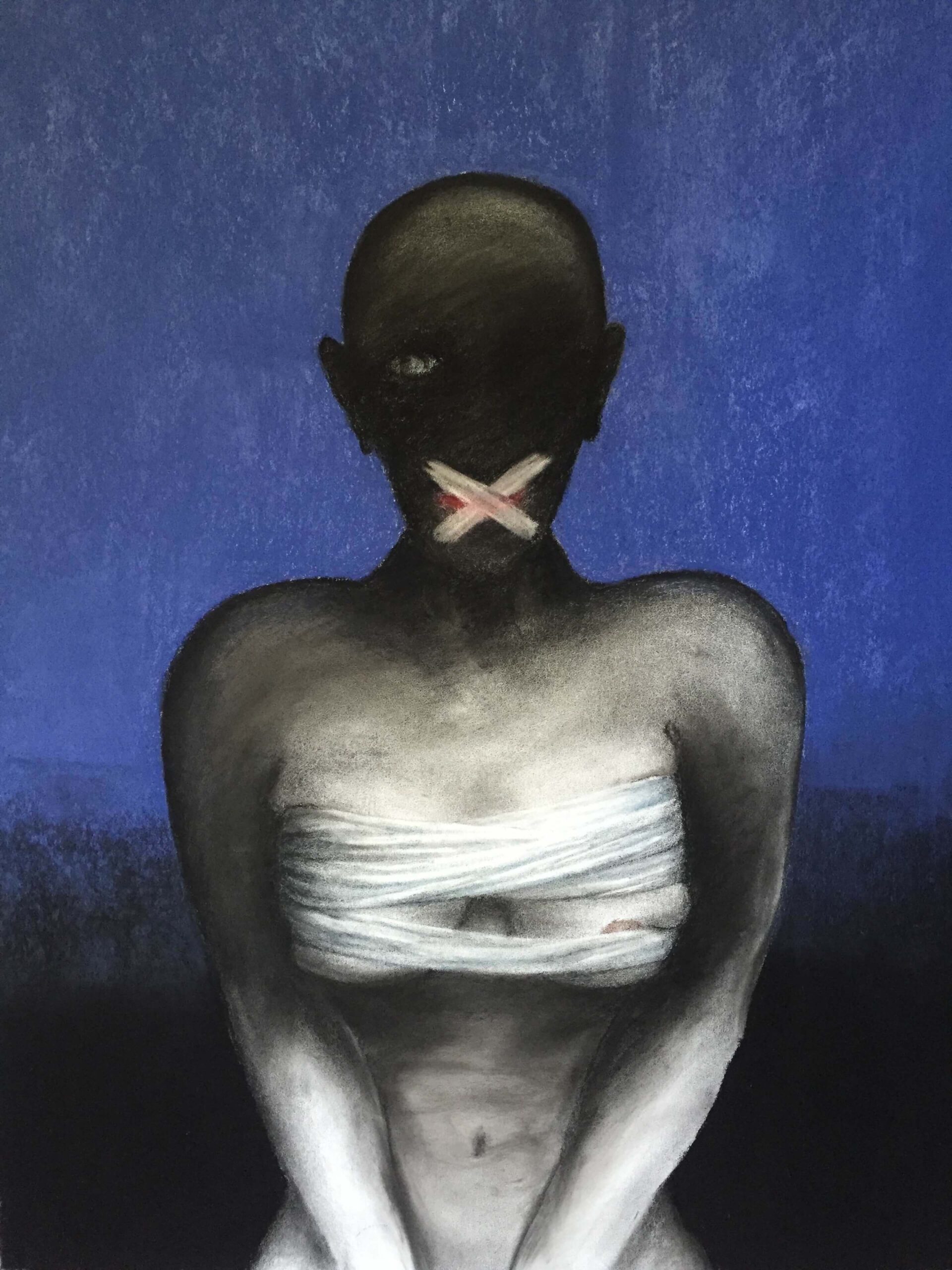 RAYMOND MUELLER
STRANGE FRUIT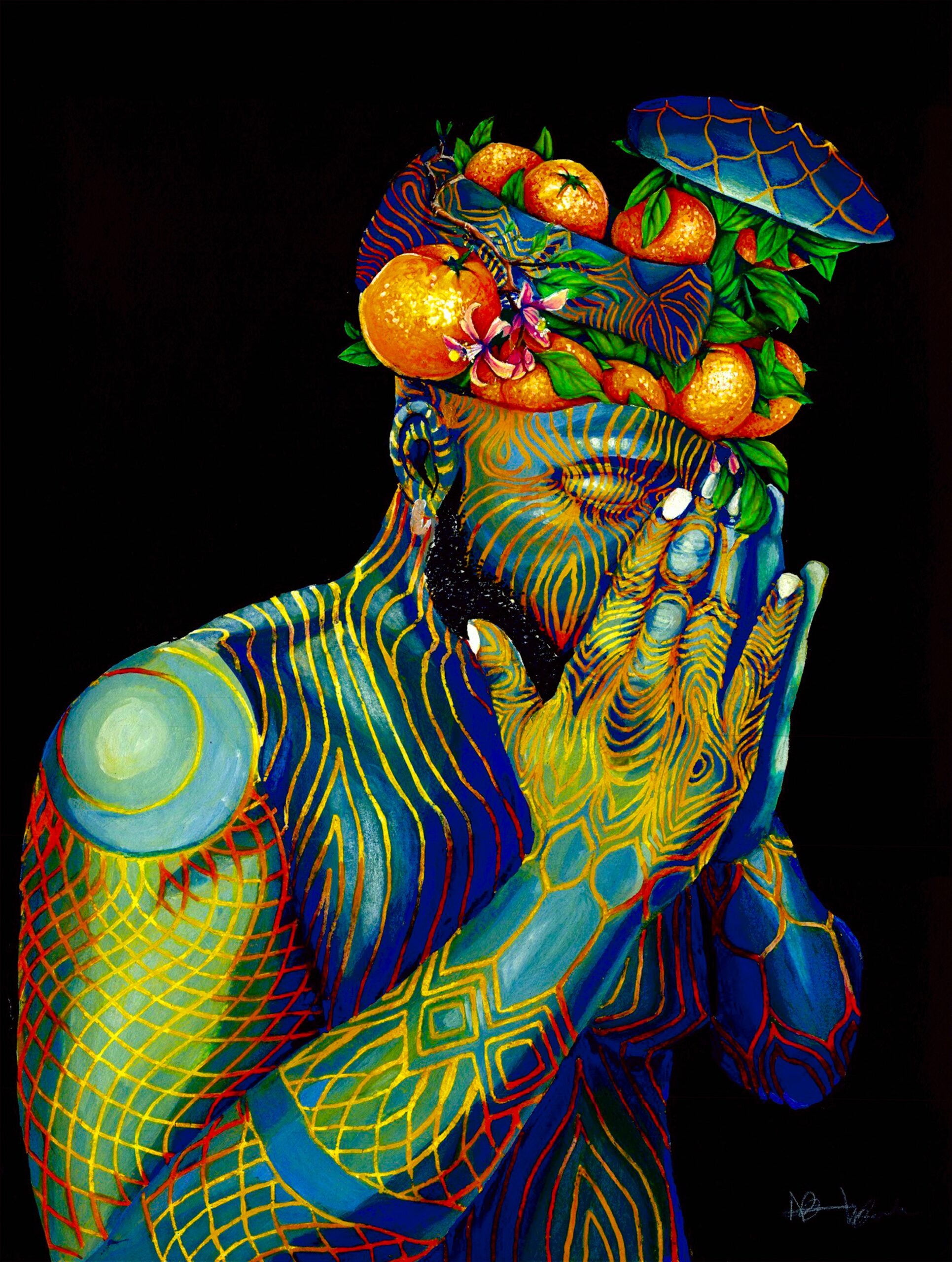 PAUL LEAVITT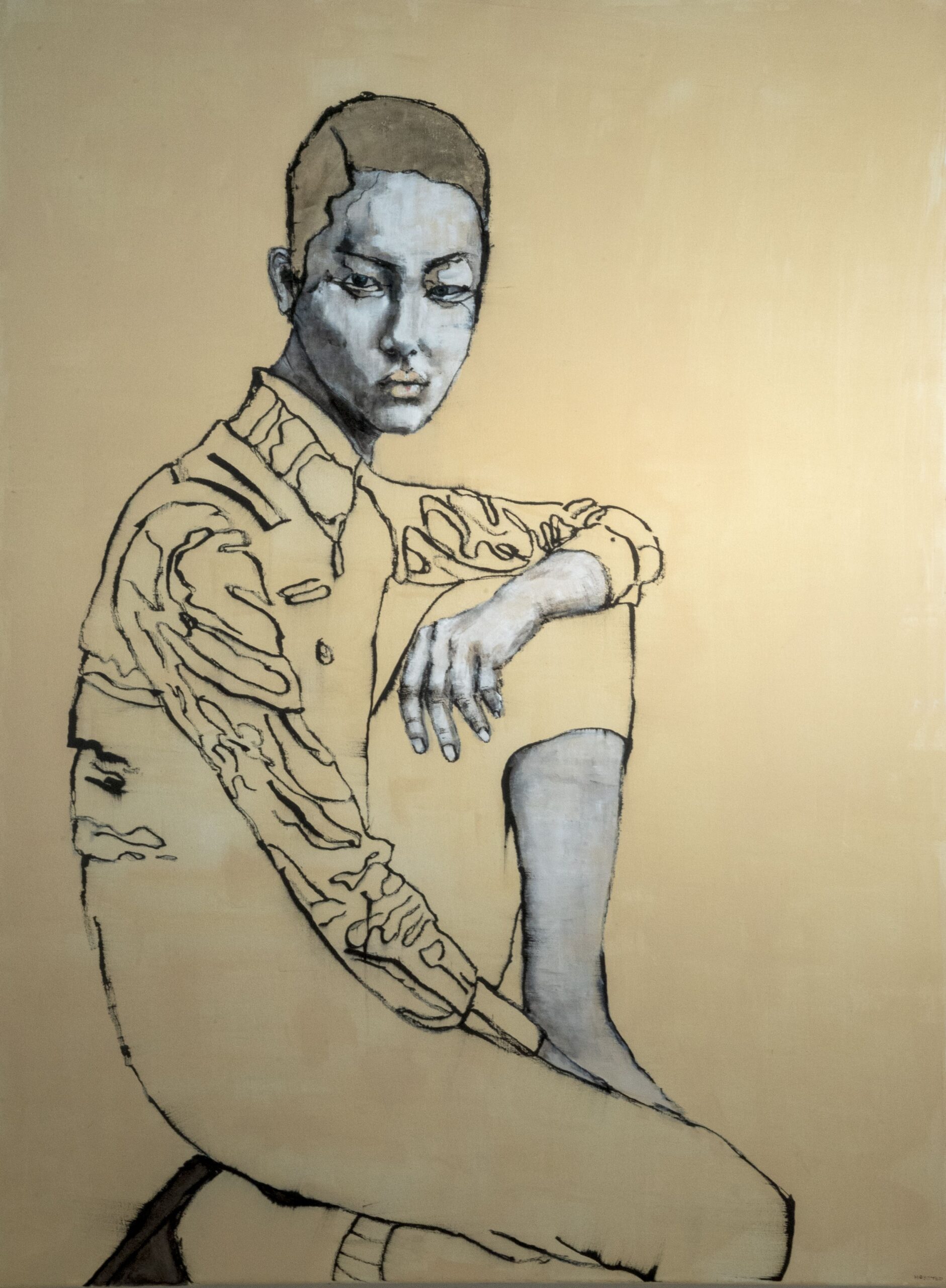 E
T
HHE/HIS
A
N
S
O
L
E
D
A
D
HE/HIS
WHEN I RISE UP
Painting: Virginia
Bold, dramatic, with an exquisite attention to detail, Ethan Soledad (b. 1999) is a Filipino-American composer whose work aims to express emotions in their most raw form. An experienced singer, he incorporates drama in his work, emphasizing the importance of silence and one's perception of time. Ethan's music draws from a wide palette of compositional styles and colors ranging from impressionism and neoclassicism to post-minimalism and the avant-garde. His musical style is marked by unapologetic expression, dynamic extremes, and the ability to do more with less but never shying away from doing more with more.
Ethan is a teacher at the Shepherd School of Music pre-college program, teaching music theory, composition, and aural skills to advanced high school students. Additionally, he is a young artist at DACAMERA Houston, engaging in outreach programs with Harris County elementary and middle schools. He graduated with his Bachelor of Arts in Music at Florida State University 2021 and is currently pursuing his Master of Music in Composition at Rice University studying under Shah-Hui Chen and Karim Al-Zand. His previous composition teachers include Lily Ugay and Orlando Jacinto Garcia.
LISTEN TO A SAMPLE OF "WHEN I RISE UP"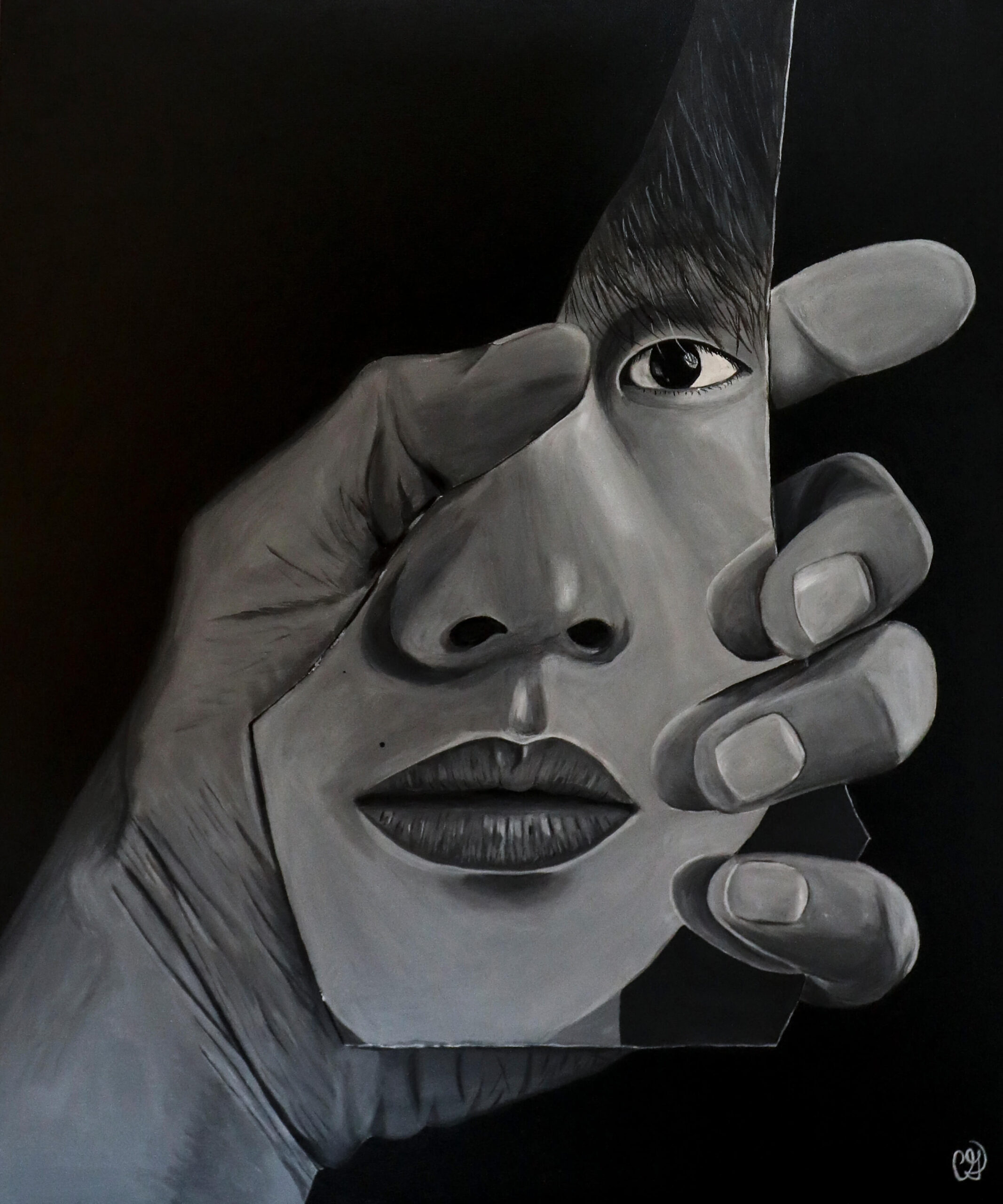 C
O
LHE/HIS
E
R
E
Y
E
S
HE/HIS
I AM (ONLY MINE)
Painting: Shard
Cole Reyes (b. 1998) is a Brooklyn-based composer, educator, conductor, and performer originally from the Chicagoland area. His music explores the intersection between personal experience and the greater world beyond through explorations of timbre and pulse. He has collaborated with artists such as the JACK Quartet, Del Sol Quartet, Transient Canvas, the Rhythm Method Quartet, Juventas New Music Ensemble, the Bergamot Quartet, BlackBox Ensemble, Inversion Da Capo, Dashon Burton, Hypercube, KC VITAs, and Unheard-of//Ensemble. He has received commissions from the National Orchestral Institute, the _______ Experiment, Sascha Grossing, and the Six Degrees Singers among others. His music has been awarded by groups such as Zodiac Trio, IL-ACDA, the National Flute Association, Lux Choir, newEar Contemporary Chamber Ensemble, the Huntsville Master Chorale, and the San Francisco Choral Artists and many others. Cole received his undergraduate degrees in music and mathematics from Washington State University in St. Louis. While there, he studied with Christopher Stark and LJ White. He holds a master's degree in Concert Music Composition from New York University where he studied with Robert Holstein, Michael Gordon, and Julia Wolfe.
LISTEN TO A SAMPLE OF "I AM (ONLY MINE)"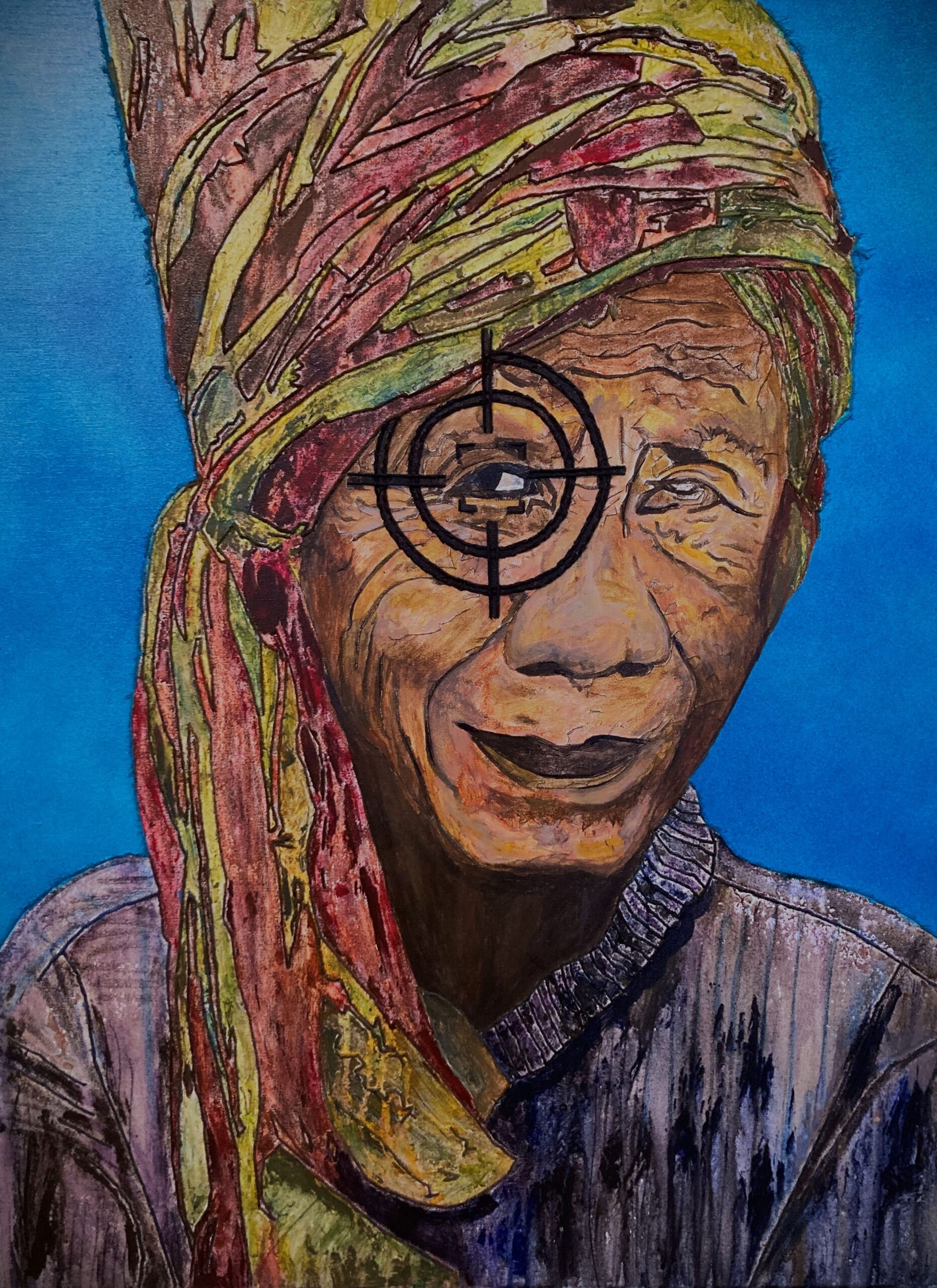 J
O
S
HHE/HIS
U
A
F
I
S
H
B
E
I
N
HE/HIS
IT WAS NOT FATE
Painting: Keep Your Eye on the Prize
Dr. Joshua Fishbein composes and arranges vocal and instrumental music, with special emphasis on choral music. He has won awards from the American Choral Directors Association, the American Composers Forum, BMI, the Cantate Chamber Singers, Chorus America, Chorus Austin, The Esoterics, the Guild of Temple Musicians, the National Lutheran Choir, and several others. Professional vocal ensembles, such as Cantus, Chicago a cappella, The Thirteen, Volti, and Washington Master Chorale, have premiered Fishbein's original music. Steeped in Jewish music, he has composed numerous Jewish and interfaith musical settings for chorus and solo voice. Currently, Dr. Fishbein is an adjunct faculty member of The Peabody Institute of the Johns Hopkins University. Previously, he taught at The College of New Jersey, Towson University, the University of Maryland Baltimore County, and the University of Nevada Las Vegas. Fishbein also serves as Director of Music and Arts at Unitarian Universalist Congregation of Rockville, MD, and Musician at Temple Micah in Washington, DC. He holds degrees in music from the University of California Los Angeles, the San Francisco Conservatory of Music, and Carnegie Mellon University. E.C. Schirmer Music Company, Hal Leonard Corporation, Transcontinental Music Publications, and Yelton Rhodes Music publish his compositions.
LISTEN TO A SAMPLE OF "IT WAS NOT FATE"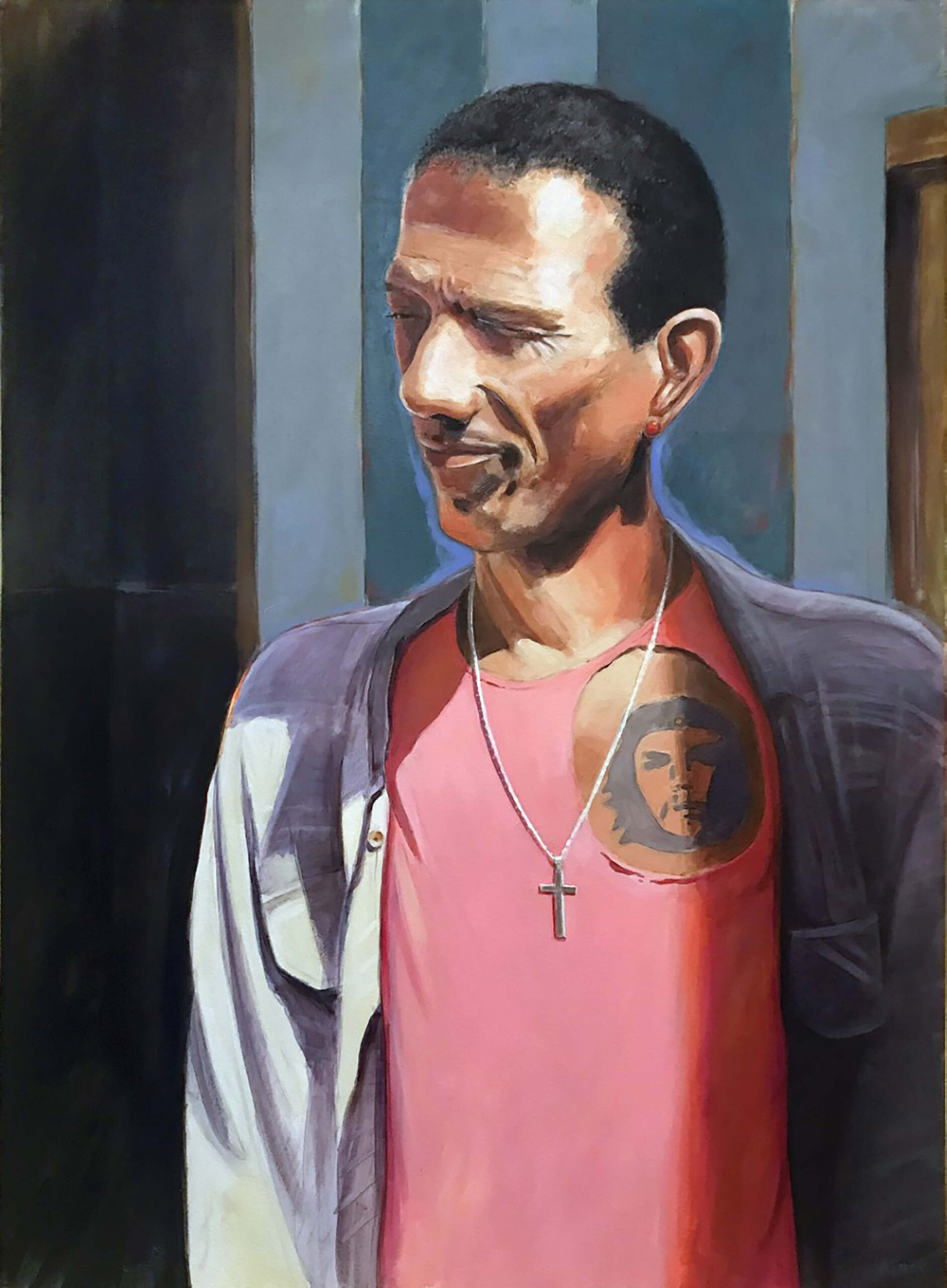 I
S
M
AHE/HIM
E
L
H
U
E
R
T
A
HE/HIM
Paz
Painting: Man with Tattoo, Havana
Ismael Huerta, 28 years old, is from Villa Alemana. His first steps in music were at school, with Andes folk music. As he wasn't born into a family of musicians, he never thought of the possibility of dedicating his life to music, that is why, after finishing high school he started studies of engineering at Universidad de Valparaiso. Four years later, after the death of his father, he decided, against all odds, to dedicate 100% to his passion, music.
Eager to learn, he decided to study musical composition at Universidad de Chile, beginning his studies in the year 2017. Nowadays, he is attending his seventh year of studying with teacher Pablo Délano, as a master composer.
Ismael considers himself a cinema lover, and also, a fan of folk music. In his compositions, he accentuates melodies and harmonies, trying always to conceal music from the past and present. Up to the present, Ismael has won six awards, Chilean and foreign, and his dream for his future is to be able to study film music or composition abroad.
LISTEN TO A SAMPLE OF "PAZ"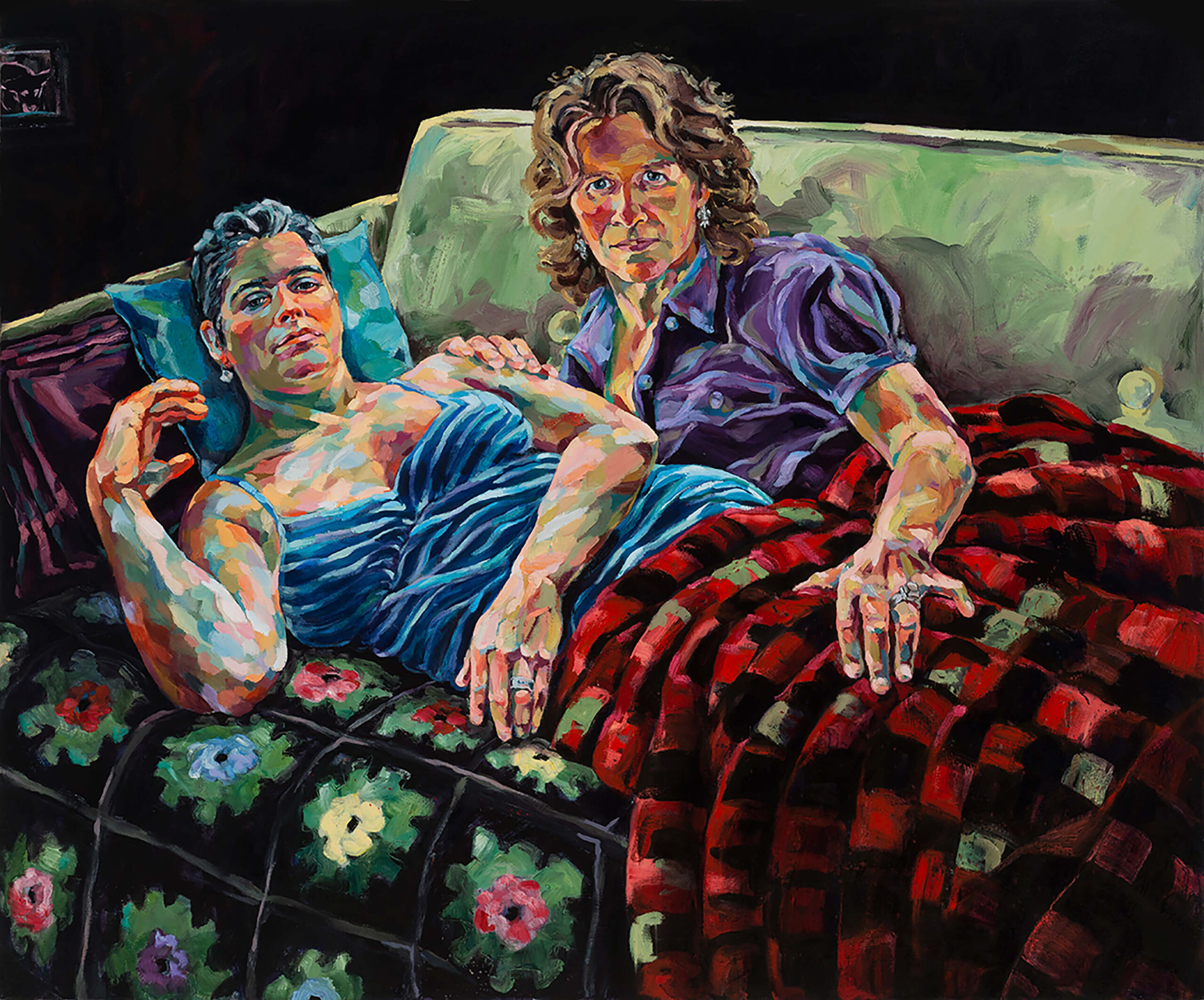 R
I
C
HHe/Him
A
R
D
C
L
A
W
S
O
N
He/Him
For Us
Painting: Night Hunger
Richard Clawson studied music composition/theory under Dr Carl Alette at the University of South Alabama. As a full time church musician for nearly three decades, he has written more than 100 pieces of music for liturgical use. His musical journey has taken him to the orchestra pit of numerous theatrical productions as well as the accompanist seat for cabaret acts. He also served as composer-in-residence for teatro la fragua based in El Progresso, Honduras. A singing member of OurSong: Atlanta's lgbt chorus since 2012, he has had the honor of composing several pieces for that ensemble – including a commissioned piece for their 20th anniversary season. Richard has also served on the OurSong board of directors for the past five years and is currently its vice president. He has enjoyed a long friendship and working relationship with internationally renowned soprano Jennifer Holloway who has premiered many of his works. He is grateful to his collaborator on "For Us", fellow OurSong member Caroline Peacock, for finding the words to unlock the music. Inspiration begets inspiration which, in turn, begets inspiration!
CAROLINE PEACOCK (Lyricist: For Us)
Caroline is an Episcopal priest and chaplain educator who directs the Spiritual Health program at Emory Winship Cancer Institute. She is the mother of three children through adoption. She studied musical theater at University of Michigan (2000), social work at CUNY Hunter College (2003) and received her theological training at General Theological Seminary (2013). Since 2017 Caroline has been a proud singing member of the Atlanta OurSong LGBTQIA chorus. She writes poetry and lyrics to feed her soul.
LISTEN TO A SAMPLE OF "FOR US"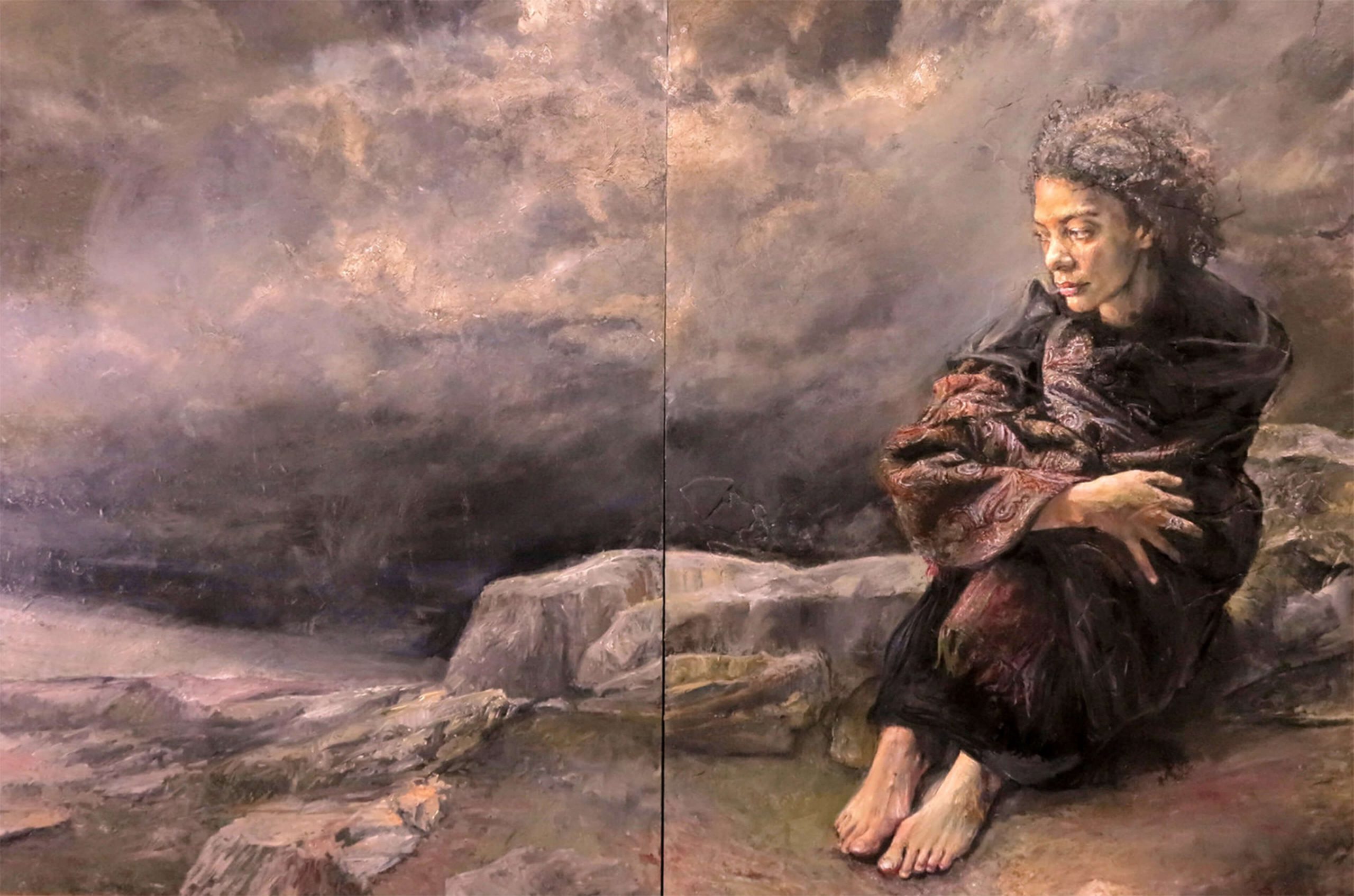 M
AHE/HIM
T
T
H
E
W
F
E
L
B
E
I
N
HE/HIM
STEELED
Painting: Steeled
Matthew Felbein (born 2002) is a composer and educator from the Chicago suburbs. He has composed and arranged works for a wide variety of musical settings including choirs, concert bands, collegiate marching bands, varied instrumental ensembles, musical theatre, and solo works. His compositions placing second in the ACDA @ UIUC composition contest and third in the Illinois Music Educators Association composition contest. He is currently pursuing a Bachelor's degree in Music Education at the University of Illinois Urbana-Champaign.
LISTEN TO A SAMPLE OF "STEELED"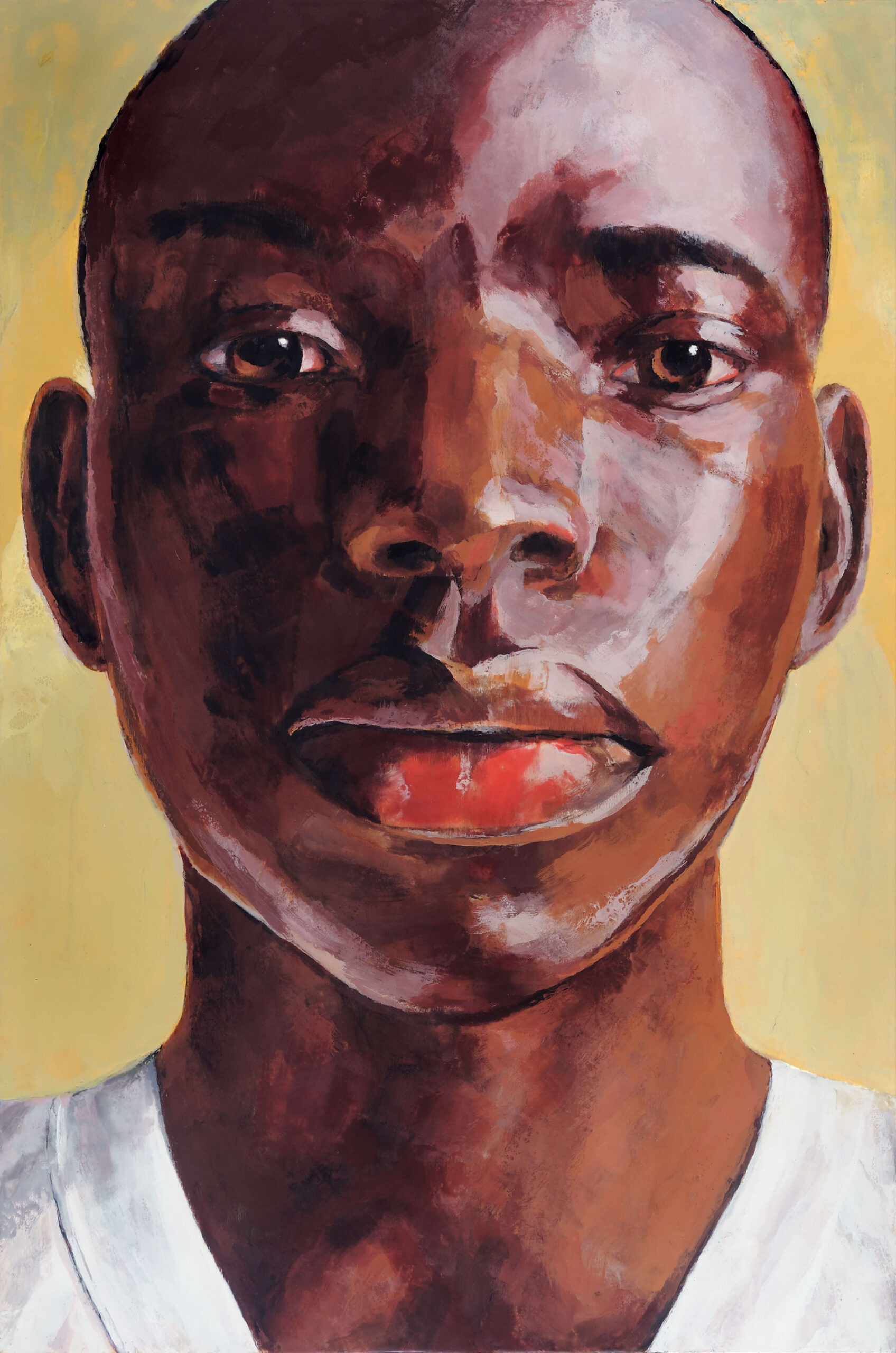 DO YOU SEE ME
Painting: See Me
Creating "exquisitely layered soundworlds" and writing music "brimming with youthful vitality" (Winnipeg Free Press), Chinese-Canadian composer Dr. Roydon Tse seeks to communicate to audiences from all backgrounds with music that reflects our lived experiences.
His music has appeared on the stages of the Kennedy Center, Lincoln Center, and the Melbourne Recital Hall and been performed by ensembles such as the Philadelphia Orchestra, iSing! Suzhou, Brussels Philharmonic, Hong Kong Philharmonic, Toronto Symphony Orchestra, Shanghai Philharmonic, the Atlanta Opera, Vancouver Symphony, Winnipeg Symphony, Edmonton Symphony, Verona Quartet, Brno Philharmonic, City Opera Vancouver, Vancouver Bach Choir, and members of the Paris Opera and La Scala Orchestras.
A winner of multiple accolades, they include seven SOCAN Foundation Awards for Young Composers, the Washington International Composition Prize (2015), Grand Prize from the iSing! Composition Competition, (2020) a Coups de Vents International Composition Prize (2021), Lieutenant Governor of Alberta's Emerging Artist Award (2018), and the Johanna Metcalf Protégé Prize (2019). His career successes led to being named one of CBC Music's Top "30 under 30" Classical Musicians in 2017.
Born in Hong Kong, Dr. Tse studied music in England before graduating from the Universities of British Columbia and Toronto (D.M.A) in composition. He was a Toronto Symphony Orchestra NextGen composer for their 2020/21 season and an alumnus of the Gabriela Lena Frank Creative Academy of Music. Living in Toronto, he is as a teaching artist for the Canadian Opera Company and enjoys playing Blitz chess in his spare time.
LISTEN TO A SAMPLE OF "DO YOU SEE ME"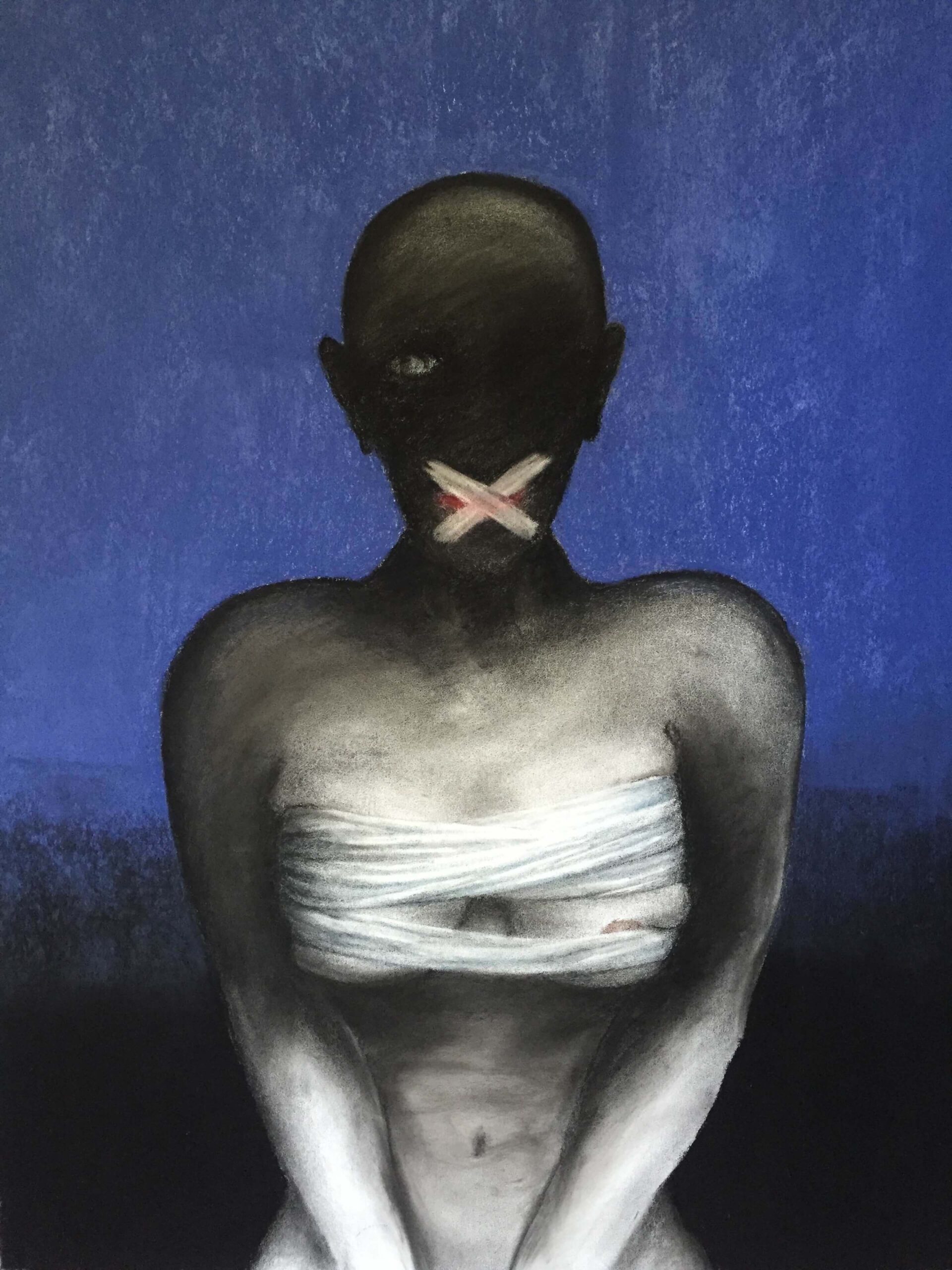 R
AHE/HIM
Y
M
O
N
D
M
U
E
L
L
E
R
HE/HIM
SLEEP WITH ONE EYE OPEN
Painting: Sleep With One Eye Open and Do Not Speak of It
Raymond Mueller is a composer and arts educator originally from Long Island. He studied music at Ithaca College, Five Towns College for the Performing Arts, and George Mason University, where he specialized in music composition and fine arts education.
Raymond is known for creating unique musical experiences that shine a light on a wide range of social experiences, often giving voice to those who are marginalized. His music is commissioned and performed around the world.
Throughout his career, Raymond has been dedicated to arts education and has worked as an educator and administrator in the United States and abroad. His commitment to creativity and keeping arts education thriving during the pandemic recently earned him the Arts Advocate Award from the Ohio Art Education Association.
LISTEN TO A SAMPLE OF "SLEEP WITH ONE EYE OPEN"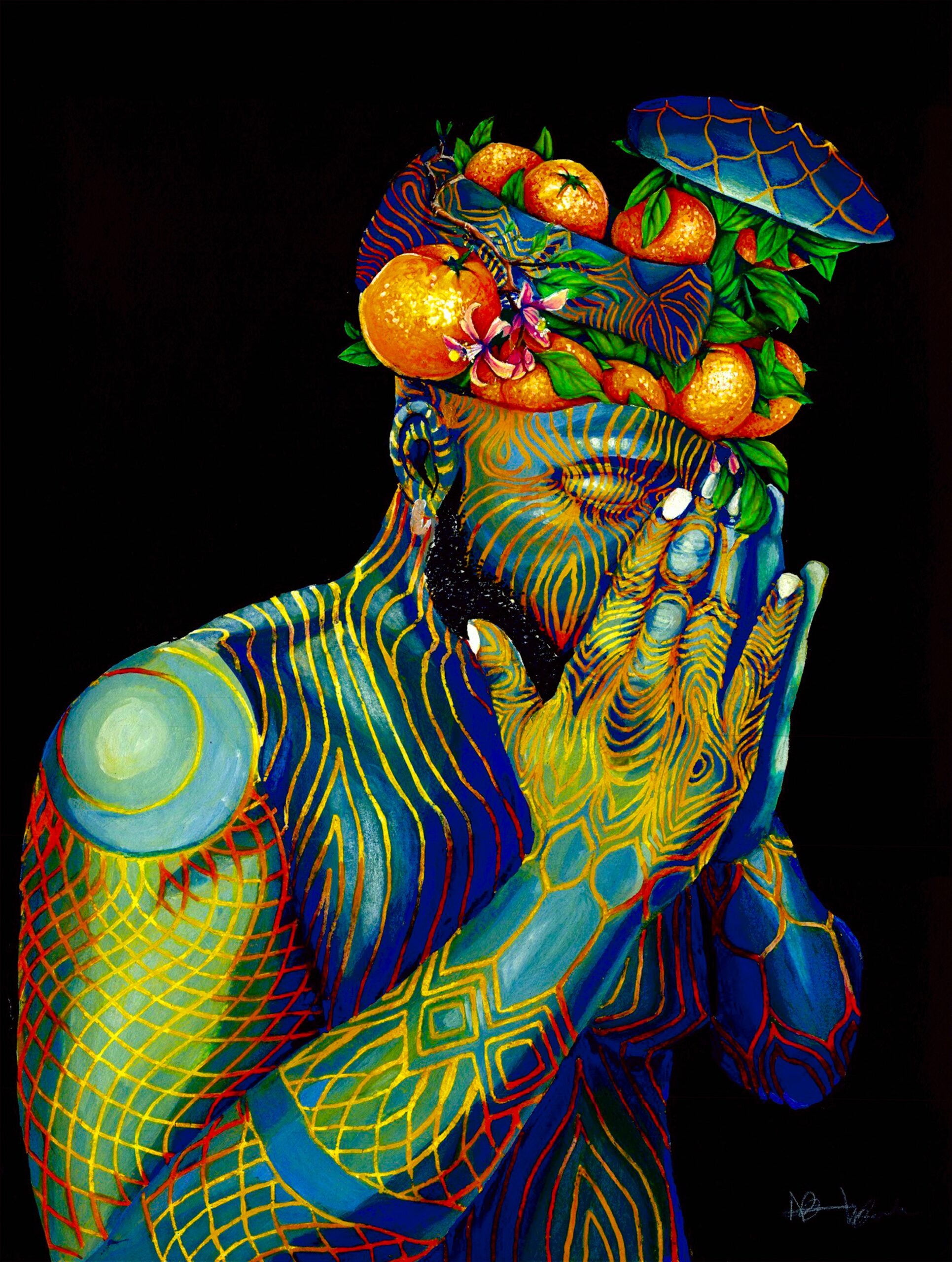 P
AHE/HIM
U
L
L
E
A
V
I
T
T
HE/HIM
STRANGE FRUIT
Painting: Strange Fruit
Paul Leavitt made his debut as a concert pianist at 15 with the Albany Symphony Orchestra. A laureate of the International Steinway Competition for Young Talents in Paris, France in 1989, he holds a BFA from SUNY Purchase and a MM from The Juilliard School. As a pianist he has given concerts in prestigious venues such at the Espace Pierre Cardin in Paris, and has given solo organ recitals in the Kennedy Center Concert Hall. He has given piano recitals for the Leschetizky Association in New York, took part in "Live Music by Living Composers" performing the premiere of his own works.
Leavitt's Magnificat for soloists, SATB chorus and orchestra was given its world premiere at the National Gallery of Art in Washington, DC in December 2012, with the National Gallery Orchestra and the composer on the podium. His Requiem, for chorus, soloists and orchestra, premiered under the direction of Dr. Thea Kano in February 2009. Cecelia Porter, contributing critic of the Washington Post, wrote, "Paul Leavitt's Requiem should belong in every chorus's repertoire. It is deeply expressive and skillfully written, and successfully combines the sense of overwhelming grief and consolation that suffuse the Requiems of Mozart, Verdi, Brahms and Fauré." The New York City Master Chorale with Maestro Kano performed the European première of his Requiem at the Eglise St. Sulpice under the auspices of the Paris Rotary Club in April, 2011, followed by the premiere at Alice Tully Hall in May 2011.
Since 2014, Mr. Leavitt has been the conductor of the Arioso Chorale of the Friday Morning Music Club of Washington, DC. Since that time the Chorale has performed a substantial number of the major works for chorus, soloists and orchestra. In October 2017, Mr. Leavitt conducted the Hamburg premiere of this work, leading the Flottbek Kantorei and the Musici Emeriti Orchester in Hamburg, followed by the premiere in Vilnius with the Lithuanian National Ballet & Opera Orchestra under the baton of Maetstro Robertas Šervenikas. The chorale performed the Italian premiere of his Requiem at the Amalfi Coast Music Festival in July 2022.
Leavitt's choral works have been performed by Maestros Norman Scribner, creator and artistic director of The Choral Arts Society of Washington, J. Reilly Lewis, director of the Washington Bach Consort and the Cathedral Choral Society, and Scott Tucker, Dr. Mark Whitmire, NOVA Community Chorus and Ullyses James, Washington Metropolitan Philharmonic Orchestra at Church of the Epiphany in WDC. He has also composed commissions for Choral Arts, the Congressional Chorus and the Gay Men's Chorus of Washington. Cantata Emmanuel, a work scored for four soloists, SATB chorus and orchestra, was commissioned by Church of the Reformation for their 140th anniversary celebration in November 2009 and performed with the composer on the podium. In 2021 two recent commissions were premiered by Choral Arts at the Kennedy Center. Leavitt's discography includes Requiem and other choral works and Chopin: 4 Ballades, Barcarolle and Sonata in b minor. His compositions are available through Lumenaria Music Publishing.
LISTEN TO A SAMPLE OF "STRANGE FRUIT"
The nine choreographers will be announced soon.
If you have further questions, please email portraits@gmcw.org.